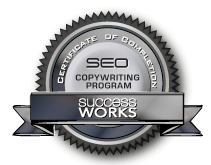 Detroit, MI (PRWEB) April 06, 2011
Derek Cromwell, Freelance writer and owner of Thunder Bay Media, a Michigan based website copywriting firm, has successfully completed the SEO copywriting course held by Success Works. The course is designed to teach freelance writers as well as in-house website copywriters how to write for search engines and people - a mix that's known as "SEO Copywriting". The targeted website copywriting, a result of proper market and keyword research, will not only drive up conversions for any business but can propel a website much higher in the search engine result pages.
On his completion of the course, Derek Cromwell stated: "This is a fantastic course. I've been involved in website copywriting and content marketing for years and I've already been utilizing a great deal of what the course covered. I've helped a number of other businesses improve visibility as well - like Paragon Remodeling."
Derek Cromwell is referring to a Virginia based general contractor that was struggling with brand visibility and online lead generation.
"I've been working with Paragon Remodeling for over a year. I helped bring them from near zero visibility on the web. They now saturate page 1 listings for each of their targeted keywords and have been featured by American Express' 'booming' project for growing businesses. This is a perfect example of what strong, well-researched website copywriting can do for a business."
Derek went on to say that the certification is about proving something to his customers and the business owners he works with. "I want to show them that I'm willing to invest in my business and myself. By growing and reinforcing what I know, I'm helping them invest in their business. I want to be able to offer my clients the latest in SEO and website copywriting. The certification shows I do just that."
About Thunder Bay Media
Thunder Bay Media is owned by Derek Cromwell. The company produces a variety of written content that includes website copywriting and SEO copywriting, article writing, brochure writing, blog writing and management, press release production, script writing and more. In addition to writing services, Thunder Bay Media offers consulting for copywriting and content marketing to help business owners own their web presence. For more information visit http://www.ThunderBayMedia.net
###