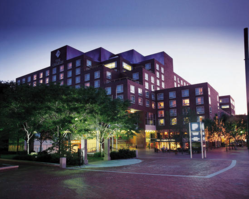 Data Plus surpassed our expectations and did a great job in a short time frame.
N. Chelmsford, MA (PRWEB) April 28, 2011
Data Plus is pleased to announce that Interstate Hotels & Resorts of Arlington, VA, has chosen Data Plus, Inc. to host the accounting for the 13 full service hotels it is now managing. This portfolio of hotels includes six Westins, two Hiltons, two Sheratons, two Marriotts and a Wyndham, totaling 5,466 rooms.
Data Plus was able to successfully bring all hotels online and live within two weeks of Interstate assuming management. Training for all properties was performed online in order to facilitate the rapid transition. The DPOnline service is hosted at a secure data center that is fully SAS70-certified.
"We had a very short two-week time period to get accounting up and running for 13 large full service hotels. Based upon our history and experience with Data Plus we knew that their hosted solution was the best way to get this done. The software is easy to learn and they already had the interfaces built for our BI platform. Data Plus surpassed our expectations and did a great job in a short time frame." -- Paul Bushman SVP, IT – Interstate Hotels & Resorts
About Interstate Hotels & Resorts
Interstate Hotels is the largest independent hotel management company in the United States. The company and its affiliates manage and/or have ownership interests in 311 hotels with 58,824 rooms in 39 states, the District of Columbia, Canada, Mexico, England, Ireland, Belgium, Russia, India and China. As a leading hotel real estate investor, Interstate has ownership interests in 56 of its managed hotels and resorts, including six wholly owned assets. The company is a wholly owned subsidiary of a joint venture between subsidiaries of Thayer Lodging and Jin Jiang Hotels.
About Data Plus, Inc
Data Plus has specialized in the hospitality industry for over 20 years and provides a completely integrated, enterprise-level back office solution. Data Plus customers can access their software as and installed solution or via the Internet with DPOnline, their cloud computing product. Data Plus offers a completely integrated, cost-effective, enterprise level system that can give any hotel, resort, or management company total back office control.
For more information about Data Plus and their SaaS options, visit our website at http://www.dphs.com.
# # #