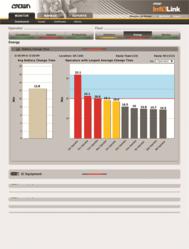 Fleet and operator management systems allow managers to proactively address issues before they turn into bad habits.
New Bremen, OH (PRWEB) April 14, 2011
Crown Equipment Corporation suggests key ways material handling managers can utilize their fleet and operator information to help reduce costs and improve operations.
Industry Trends
Increased competition has led many in the material handling field to focus on efficiency, utilization, availability and optimization of assets.
Data generated at the forklift level can be transformed into usable information enabling managers to focus on operational and performance issues quickly and efficiently.
Historically, data that was available from forklifts was not delivered to fleet managers in a way that was easy to understand and supported decision making.
Operations that utilize both a fleet management system and a warehouse management system (WMS) prefer both systems to run on a single Windows-based vehicle-mounted computer (VMC).
Key Ways Material Handling Managers May Benefit from Fleet and Operator Information
Maximize Productivity – To truly maximize productivity and cost containment, managers must monitor everyday forklift actions such as the number of loads moved per day, motion and idle time, speed, distance, and the number of impacts by operators, among others. At-a-glance digital dashboards for asset management enable managers to monitor all of these elements easily and to gauge performance against established productivity goals.
Manage Performance – Organized operator information can help managers identify immediate opportunities for performance improvement and operational efficiencies, and help guide them through the decision-making process. This information can be reported in real time, allowing managers to identify the continuous improvement actions they're taking.
Maximize Energy and Service – Properly maintained forklifts will have a longer life that allows managers to reduce spending on new equipment. Something simple such as charging a forklift's battery prematurely can be detrimental to the battery in the long run. Fleet information enables managers to proactively and quickly identify maintenance issues in order to properly maintain their equipment for optimal use. More specifically, managers can use organized forklift summary information to manage daily performance checks and preventive maintenance, and expedite breakdown repairs.
Know When Equipment Replacement is Necessary – Throughout time, equipment will reach a point where productivity will steadily decrease while maintenance costs rise. Managers can use fleet information to identify exactly when repair costs outweigh equipment's usefulness.
Comply with OSHA – OSHA regulations are designed to help ensure safe environments for workers. Material handling managers can maintain compliance with these regulations by monitoring and logging the completion of daily operator checklists and the amount of time operators spend performing safety checks. If users are not in compliance with OSHA regulations, managers can make immediate adjustments to ensure safety in the facility.
Reduce Time Spent on False Impact Alarms – As many as 70 percent of impact alarms are considered nuisance alarms. If forklifts are equipped with a scalable impact sensor, material handling managers can use fleet information to help ensure they only receive alarms for events they define as impacts, while also having an easy-to-monitor visual cue for when impacts require management attention.
Plan Effectively – Understanding how much equipment is needed during any given time of the day is important for material handling managers. Fleet and operator information can show when trucks are in use, how long they are in use, and what they are being used for. Once equipped with this information, managers can start to better understand their optimum fleet size and best use of each unit.
Monitor and Manage Remotely – Material handling managers have several responsibilities and managing their fleet is just one of them. Remote visibility of fleet and operator information allows managers to monitor all of their equipment across multiple locations from a single location. This means less guesswork and more focus on efficiency, utilization, availability and optimization of assets.
Quotes Attributable to Jim Gaskell, global director Insite™
Fleet and operator management systems provide material handling managers with real time information on operator compliance, impact management, operator productivity, equipment utilization, energy and service, allowing managers the opportunity to make meaningful and strategic improvements to their operation.
Fleet and operator management systems allow managers to proactively address issues before they turn into bad habits.
Built-in dashboards eliminate the need for reams of raw data from vehicle management systems, enabling material handling managers to quickly and easily compare their operation against predefined goals in real time. For example, dashboards can identify unmet expectations by illuminating a warning indicator. The user can then easily drill down to specific details with just a few mouse clicks.
Results will vary, of course, but we've seen customers utilize a fleet and operator management system to take actions that directly save costs in less than 24 months. For example, one of our major users was able to reduce their fleet size by 40 percent based on insights from their fleet information.
Related Links
Video Showing Forklift Leveraging its Own Data for Traction Control
Steelcase Case Study
MBM Corporation Case Study
InfoLink 3.0 Product Video
Crown InfoLink Product Page
Suggested Tags
Forklift, forklifts, lift truck, industrial forklift, logistics, material handling, fuel efficiency, sustainability, manufacturing, construction equipment, Crown Equipment, Crown InfoLink, fleet management, warehouse management, forklift data, effective fleet management
About Crown Equipment Corporation
Crown is one of the world's largest lift truck manufacturers. Crown's award-winning line of lift trucks maintains a reputation for exceptional product design, engineering and manufacturing. From the smallest hand pallet truck to the highest lifting turret truck, Crown seeks to provide users with safe, efficient and ergonomic lift trucks that lower total cost of ownership and maximize uptime. Headquartered in New Bremen, Ohio, Crown manufactures lift trucks that are sold throughout the world. For more information, visit http://www.crown.com.
###