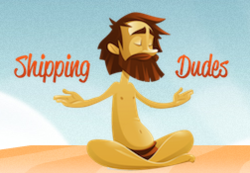 Offers you find on ShippingDudes help you save a ton on shipping so you can use that money to buy something extra special
Venice, California (PRWEB) April 28, 2011
ShippingDudes, a website dedicated solely to free shipping coupons, is now offering visitors free shipping coupons for Kohl's thanks to their partnership. Users can save as much as $25 on shipping from Kohl's. "Free Shipping coupons found on ShippingDudes help users save money on shipping, giving shoppers more money to buy something extra special," says Kristen Craig, director of ShippingDudes. "The codes users find here are all free of charge and have no strings attached." Shoppers can review coupon codes and leave helpful comments to fellow shoppers.
In addition to free shipping, ShippingDudes offers discounts that can save savvy shoppers anywhere from 10% to 20% on their Kohl's order. For extra frugal shoppers, not only does ShippingDudes offer users Kohl's Free Shipping Coupons ;but they can also score 15%-20% coupon codes for site-wide purchases. ShippingDudes updates their free shipping offers 365 days a year and provides a special newsletters for exclusive free shipping coupons only available for their shoppers.
About KOHL'S
Kohl's is a nationwide leading department store that offers thousands of items and hundred's of the biggest brands. At Kohl's shoppers find everything from men's, women's and children's apparel, intimates, accessories, jewelry, footwear, bed and bath products, kitchen and dining products, furniture, luggage, home electrics, beauty products, toys and more.
About SHIPPINGDUDES
ShippingDudes offers online free shipping coupon codes, free shipping codes and free shipping discounts to over 2,000 stores and growing. The Dude, mascot for ShippingDudes, provides visitors tips on shipping for every store available. At ShippingDudes smart shoppers also find weekly reviews of the best free shipping deals that are currently available. ShippingDudes consists of avid deal hunters looking to provide visitors with the best free shipping coupon codes. The best part of ShippingDudes is that all coupon codes found are free of charge. No commitment necessary.
For more information visit http://www.shippingdudes.com or email info(at)shippingdudes(dot)com with questions.
Media Contact: Kristen Craig
Email: info(at)shippingdudes(dot)com
Phone: 310 664 1300
# # #