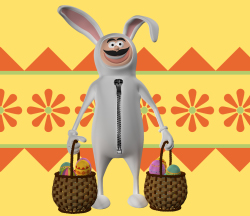 At Beezid, we always mark special occasions with promotions that give our users opportunities to enjoy bigger savings than the usual incredible prices we offer every day
(PRWEB) April 14, 2011
Spring has sprung and Easter is approaching. To mark the occasion, Beezid is introducing another industry-shaping promotion: Beezid's Easter Egg-stravaganza. The result is 36 hours of risk-free bidding and guaranteed savings of 75-99% off retail starting at 12 noon EDT on Good Friday, April 22nd and continuing until 11:59pm EDT the following day.
"At Beezid, we always mark special occasions with promotions that give our users opportunities to save big and have a great time in the process," said Beezid CEO Max Bohbot.
With the success of previous promotions that coincided with holidays and big events, the latest innovation from Beezid is going to become an Easter tradition that everyone will love. The first-ever 36 hour risk-free bidding promotion with guaranteed savings of 75-99% off retail is bound to make a stir and get Beezid users excited.
It's not just the users who are getting hyped up for the big event, even Team Beezid, the men and women behind the scenes at the Penny Auction leader are excited.
"Everyone is working so hard to make this event an even bigger success than any of the promotions we've run in the past. At Beezid, our mission is to help our users get the biggest possible savings on the items they want and there's nothing that makes us happier than when that happens," Bohbot continued.
Spring is a time for new beginnings: flowers blooming, birds chirping and the beginning of something wonderful. The time has never been better to head over to Beezid.com, stock up on Bids and get your hands on your favorite name for Beezid's ridiculously low prices.
Beezid's Easter Egg-Stravaganza is here and users are encouraged to load up on bids and hunt for bargains!
There's never been a better moment to try out Beezid. New users get ten free bids as soon as they sign up and users can always take advantage of promotions on twitter and Beezid's popular Facebook page. Join more than 20,000 users who "like" Beezid for an opportunity to enjoy huge savings!
Joining Beezid.com is free, and new users will receive 10 free bids when they sign up.
About BEEZID.com
BEEZID.com is a top rated penny auction website which offers a thrilling spin on online auction shopping. Users take advantage of huge discounts on brand new, brand name products by forming bidding strategies and by using bonuses and incentives offered by Beezid. Launched in 2009, BEEZID.com is one of the biggest, most frequently visited and most-trusted sites of its kind world-wide.
# # #