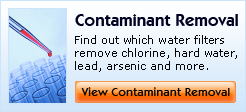 Austin, TX (PRWEB) April 13, 2011
In an industry leading announcement, eFilterWater declared its commitment to customer service by introducing its exclusive 365 Day Return Policy. The move is the first of its kind in the water filter industry where most companies give a consumer just 30 to 45 days to return a product. But what's more, eFilterWater is not charging a restocking fee for a return either. This is noteworthy. Traditionally, most online, retailers regardless of the specific industry, charge a fee to the consumer to cover the cost of inspecting a returned item and then returning it to inventory, referred to as a restocking fee. This serves to benefit the retailer but discourages the consumer from returning a product they are not satisfied with. Either pay the restocking fee, or live with an unsatisfactory product. eFilterWater does not believe that serves to benefit the consumer, a company's reputation or long term customer satisfaction. All other companies in the drinking water filter industry charge a standard 10% or 15% restocking fee. From this announcement eFilterWater makes a bold statement that customer satisfaction is of paramount importance to them, particularly when their customers are buying online and cannot see a physical product before committing dollars to the purchase.
In an interview with Linda Lee, CEO she said, "We recognize how difficult it is to buy anything over the internet when you cannot see or touch the physical product beforehand. We want to ensure that our customers are satisfied with their water filter purchase. We don't want them seeing a product they bought from us and reliving a bad experience every time they look at it." eFilterWater has taken a stand with their 365 Day Return Policy with No Restocking Fees. With this announcement, their customers now know they can expect distinguished customer service from a reputable company that stands behind what they sell.
About eFilterWater
eFilterWater believes your health is THE most important aspect in life. Without health everyone suffers. This negatively affects every other aspect of your life. With water making up 55%-65% of your body, contaminant free drinking water is critical to achieving good health. As such, eFilterWater is the industry leader in educating consumers about the tremendous impact that water has on your health and well-being and helping you consistently have the cleanest water, in a way that is eco friendly and healthy for the environment, too.
eFilterWater is a division of ViaEtail, a privately held company, headquartered in Austin, Texas that was founded in 2000.
For more information please visit:
eFilterWater
Return Policy
###