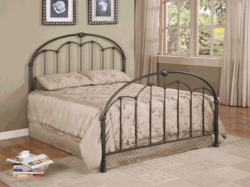 derives its positive qualities from a powerful bond to its mother color red, the most physical, viscerally alive hue in the spectrum
Houston, TX (PRWEB) April 13, 2011
Style-conscious homeowners who are looking to breathe new life into their bedrooms and home bars this spring will find the newest Powell Furniture Metal Headboards, Metal Beds and Metal Bar Stools have been added by Home and Bedroom. This latest crop of Powell's Bar Stools, Beds are meant to incorporate the colors, materials and finishes that will keep buyers homes with all the must-haves for spring 2011.
When Pantone, a world-renowned authority on color, revealed its 2011 Color of the Year, Honeysuckle walked away with the honor. Described as "a dynamic reddish pink," Honeysuckle "derives its positive qualities from a powerful bond to its mother color red, the most physical, viscerally alive hue in the spectrum," according to the Pantone Color Institute's executive director.
As one of the most recognized names in the furniture industry for home accent furnishings, it's not surprising that several of Powell Furniture's latest offerings incorporate this seasonal color trend. In particular, the company's newest lineup of bar stools is available in both vibrant pink and ruddy red choices. The Powell Furniture Metal Bar Stools that Home and Bedroom has just added to its inventory of high-quality discount furnishings, however, are on point with the current decorating trends in more than just their colorfulness. Sleek and contemporary with modern chrome accents, they also hit upon the Technology trend of neutrals and grays that Dutch Boy paints singles out as a 2011 decor trend.
Homeowners who are looking to infuse their and their kids' bedrooms with new and current styles need not feel like they're being left out in the cold. Home and Bedroom has also hot and happening Powell Furniture children's beds and metal headboards to its lineup of products, including the Artsy Craftsy kid's bed and the Newport woven panel headboard.
Designed for displaying memorabilia, collectibles and artwork, the Artsy Craftsy children's bed has a natural cork surface and replenishable rubber wood veneers. Both of these aspects are right on cue with Dutch Boy's appreciation for natural materials and finishes trend. Finished in a dark brown mahogany and accented with unique woven panels, the new Newport headboard from Powell Furniture similarly embraces that same trend's hallmark of rusty colors that emanate warmth.
"For over 40 years, Powell Furniture has been designing, importing and distributing youth, bedroom and accent furnishings across all style categories," explains Home & Bedroom spokesperson Ben Weissman. "And the newest pieces they bring us are always as fresh and up-to-date as they day they started. That's why we're so thrilled to partner with them."
For more information on the new bar stools, children's beds and headboards from Powell Furniture Home-and-Bedroom.com has added to its inventory, contact Jennifer Machala at (281) 758-0832. To see all the quality discount Powell pieces the company has to offer along with, visit Home & Bedroom Furniture online at http://www.home-and-bedroom.com/powell-furniture.html.
###