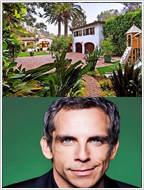 Houses of the Rich and Famous
Miami, FL (PRWEB) April 19, 2011
Houses.com, a leading global property portal, is quickly becoming a top source to view celebrity homes for sale or rent. Houses.com has recently expanded its content to include all recent news on celebrity home listings of A-list actors, musicians and athletes. Those interested in getting a glimpse of the lifestyles of the rich and famous can now access and subscribe to Houses.com's "celebrity real estate news" with articles posted regularly on the site's homepage. Users can subscribe to a housing news RSS feed to receive real-time updates on celebrity home news along with other helpful homebuyer tips and guides.
The celebrity and luxury real estate market has taken flight in recent months with dozens of the most expensive, high-profile homes being listed. Celebrity listings have the unique advantage of being famous, an intangible feature adding significant value over other luxury homes. Buyers can often justify the hefty price tag on a former celeb home over another home with even more amenities. These celebrity, famous million-dollar mansions, dubbed "Houses of the Rich and Famous" represent some of the most extravagant, sought after homes in real estate nationwide. Most notably, the Spelling Manor originally built by Aaron Spelling, is the most expensive home listed on Houses.com and one of the most expensive properties for sale in the world. Currently listed at $150 million, the 14-bedroom, 56,500 square foot Los Angeles mansion sits on 4.7 acres of land in Holmby Hills. The Spelling Manor was featured in the site's recent article: "The Best of the Best: Houses.com's 5 Most Expensive Listings."
Some of the hottest celebrity homes currently listed on Houses.com:
Ben Stiller's LA mansion
10 Beds / 11 Bath
$11.4 million
Penelope Cruz' Hollywood Hills home
3 Beds / 4 Bath
$3.15 million
Jack Nicholson's Malibu mansion
3 Beds / 3 Bath
$4.25 million
Leann Rimes' Nashville mansion
7 Beds / 8.5 Bath
$6.25 million
Charlize Theron's Malibu Beach home
3 Beds / 3.5 Bath
$6.9 million
Houses.com provides a comprehensive search for real estate nationwide and has now expanded the site's content to provide visitors with the inside scoop on the pricey pads of their favorite stars. "Many of us are not in the market for a million dollar celeb home, however most of us enjoy learning about these extraordinaire homes…We are now highlighting them on our site through publishing fun, news articles with detailed descriptions and photos of the homes as they become available," stated Virginia Mendez, VP of Marketing. Sofia Coppola was recently quoted as saying "my best at home escape is looking at real estate on the Internet. My friends and I say it is like online porn for women" – we couldn't agree more, added Mendez.
About Houses.com
Houses.com is the world's largest marketplace for houses. The site was launched on January 11, 2011 (1/11/11 at 11:11:11am UTC) showcasing over 3 million properties for sale, rent and vacation in the United States and 70+ countries around the world. The category domain, which leverages the top generic term for the residential housing industry, is one of the top domains in the world based upon the size of the housing market, the amount of available housing inventory globally and the average price per housing unit sold. In addition to property for sale and rent, users have access to a wide variety of products and services related to houses including mortgages, inspection, title, closing services, home improvement, moving and more. Houses.com is operated by the team at the privately held Miami-based, Condo.com. For more information, please visit Houses.com.
# # #