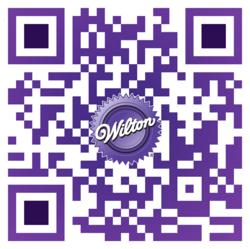 When launching our newest decorating method, we saw an opportunity to enhance traditional retail store displays with interactive and engaging content to help inspire consumers while still in the store and to better inform their purchase decision
Woodridge, IL (PRWEB) April 19, 2011
Wilton Enterprises, the industry leader in cake decorating, quality bakeware and food crafting for more than 80 years, is enhancing its offline marketing efforts by introducing a quick response (QR) code on the packaging and in-store displays for its recently-announced Punch. Cut. Decorate!™ program. The new QR code leads consumers to a mobile-optimized page where they can receive more product information, view creative ideas and gain a better understanding of Wilton's latest treat decorating innovation.
"When launching our newest decorating method, we saw an opportunity to enhance traditional retail store displays with interactive and engaging content to help inspire consumers while still in the store and to better inform their purchase decision," says Eric Erwin, executive vice president of marketing and product development for Wilton. "More and more of our target consumers are accessing Wilton content through mobile devices, so it was a simple decision for us to leverage the latest technology to start making our decorating content and resources available directly to them, from wherever they choose to access it. This is just one step in our broader efforts to empower decorating enthusiasts everywhere with information and also embodies the next stage of retail – creating an ongoing, one-to-one dialogue with our consumers."
With just a click of their smartphones, consumers can scan Wilton's new QR code on Punch. Cut. Decorate! packaging and in-store displays to automatically access a wealth of interactive resources related to the new decorating method. The company has created a mobile-optimized page with step-by-step videos and hundreds of creative decorating ideas for decorators to try with Punch. Cut. Decorate! The QR code also allows consumers to interact with the greater Wilton community through the mobile page by checking product ratings, reviews and how-to guides, or even posting a query to other decorating enthusiasts via Facebook or Twitter while standing directly in front of the product in the shopping aisle. This direct access helps shoppers determine how to best craft their decorated creations for life's celebrations, before they even leave the store.
"Using the latest technology in this way is merely an extension of how we've always educated, instructed and inspired decorating enthusiasts for the past 80 years. The difference is that now we are making all of this information easily available directly to them, from wherever they choose to access it" says Erwin. "If we can inspire a shopper in the decorating aisle with an idea for their next project while they are still in the store, they are more likely to be interested and motivated to try Punch. Cut. Decorate! and more likely to want to continue to engage with the Wilton brand," adds Erwin.
The new QR code on Wilton Punch. Cut. Decorate! packaging and in-store displays will be available by mid-May. Please visit http://www.wilton.com for more information about the Punch.Cut.Decorate! System or for ideas on how to make any celebration special.
About Punch. Cut. Decorate!
The Punch. Cut. Decorate! System from Wilton features new Sugar Sheets Edible Decorating Paper, punches and cutting tools that make it easy to create decorations in dazzling colors and shapes. Inspired by paper crafting, Sugar Sheets allows decorators to layer shapes and create broader graphical designs on baked treats, reminiscent of the flexibility and inventiveness offered by scrapbooking. Sugar Sheets are also ideal for "off-cake" decorating – cut or punch out shapes to build ornamental elements, add a colorful effect or message and position on the cake.
About Wilton Enterprises
Wilton Enterprises, based in Woodridge, Illinois and founded in 1929, is the leading food crafting company in the industry, with the number one position in cake decorating and bakeware. Wilton classes, publications and products help millions of people create impressive party desserts. For the latest information on products and ideas for all occasions, visit http://www.wilton.com. To locate the closest Wilton® Method Cake Decorating class, call 800-942-8881 or visit http://www.wilton.com.
###