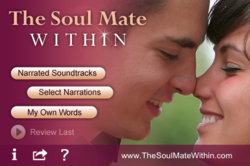 New York, NY (PRWEB) April 25, 2011
O.T. Projects, Ltd. Announced today that "The Soul Mate Within", a revolutionary new app for the iPhone, iPad and iPod Touch is now available. Offering the most effective and powerful technique, in just 10 minutes a day for 21 days, a person can create the relationship they have always desired. This unique app allows the user to employ the power of the Law of Attraction in order to attract the partner of their dreams. Recent research has shown that by conditioning the mind to channel positive energy one can accomplish positive, life changing results.
"The Soul Mate Within" was developed by experienced certified Life Coaches utilizing exceptionally effective methods to help scores of people reach their personal goals. The research was based on the concept that the more vivid the picture a person holds in their minds of a desired partner -- the better their chance of attracting the right person into their life.
Over a year in development, this app combines state-of-the-art HD graphics with uplifting music and pre-recorded audio narrations.
The Soul Mate Within:

Uses the power of HD videos, inspirational phrases and music to condition the mind in order to attract the partner of our dreams
Enables visualization of the ideal soul mate with great clarity
Inspires deep and lasting affirmations
Applies the Law of Attraction in the search for a soul mate
Features:

Over 70 pre-recorded affirmations
Option to record your own personal affirmations in your own voice
HD video clips
Multiple music selections
User friendly interface
Optimized for iOS 4
Pricing and Availability:
"The Soul Mate Within" is launching free of charge for one week - In conjunction with AppFreeway.com, following which the price will be $1.99 for iPhone and iPod Touch and $2.99 for iPad.
For more information about "The Soul Mate Within" -- please visit: http://www.TheSoulMateWithin.com
###