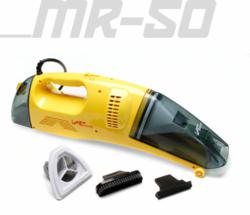 Scottsdale, AZ (PRWEB) April 27, 2011
Vapamore, a leading manufacturer of steam cleaning products introduces the MR-50, a portable steamer and wet/dry vacuum combination, aimed towards pet owners looking for an effective, chemical free way of extracting pet urine and other stains associated with pets. The unique product stands alone as the only product of its kind.
Vapamore has added the MR-50 wet/dry steam vacuum to their product line to provide a convenient, chemical free way of cleaning pet accidents quickly and easily. The steam function produces 210°f steam to aid in the removal of pet's accidents. The dual steam mode and vacuum combination is an effective extraction method in treating set-in stains and spots on carpets and upholstery.
"The MR-50 product is the only portable steamer and wet/dry vacuum combination on the market today. Pet owners will benefit tremendously from this product. Although the MR-50 is aimed toward pet owners, non-pet owners will benefit from its capabilities as a carpet and upholstery spot treatment." Said Randy Marchetti, Vapamore President and CEO.
Anyone who owns pets knows that a pet will inevitably leave their mark on carpets and floors. Younger pets are especially susceptible. Gone are the days of running for a chemical spray and damp cleaning cloth to soak up the liquid before odors and stains have a chance to set in. The MR-50 is there to do the job.
Vapamore is the leader in the home steam cleaning industry. They manufacture innovative cleaning products that are designed and tested for usability and longevity. Vapamore ensures that their products meet consumer needs through a rigorous customer based product development process. To learn more about Vapamore, visit http://www.vapamore.com or telephone 480-951-8900.
###