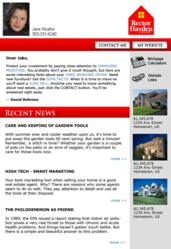 In today's challenging market, successful real estate professionals need to connect with past and present consumers on their terms
Denver, CO (PRWEB) April 27, 2011
SharperAgent, a technology and marketing company that serves the real estate community with an innovative, web-based marketing system, announced Rector-Hayden REALTORS is equipping its nearly 300 agents with SharperAgent tools for building lasting, profitable relationships with past clients and contacts.
Serving Lexington, Kentucky since 1969, Rector-Hayden REALTORS has a long history of embracing state-of-the-art technology. SharperAgent's real estate marketing system will allow Rector-Hayden REALTORS agents to produce eNewsletters and automate MultiChannel campaigns that combine direct mail and email marketing with personal contact reminders. SharperAgent's customizable system features a library of more than 3,000 professionally designed templates.
"In today's challenging market, successful real estate professionals need to connect with past and present consumers on their terms," said Brian Wildermuth, president and co-founder of SharperAgent. "SharperAgent helps agents build lasting relationships in an easy, effective and affordable product."
"We know our agents time is best spent building relationships and growing a client base," said Keith Rector, senior vice president of Rector-Hayden REALTORS. "SharperAgent's tools will allow our agents to save time so that they can be in the field doing what they love most – interacting with prospects."
About Rector-Hayden REALTORS
Since 1969 Rector-Hayden REALTORS has been the leading real estate company in the central Kentucky area. Our company features an award winning relocation division and specialized auction department along with our own mortgage company. Our associates' dedication to service is the reason Rector-Hayden REALTORS is the largest and most respected real estate company in the area. Because they live in the area in which they serve, our associates can readily meet the unique challenges and situations individuals and families encounter when selling their home or purchasing a new one. For more information, visit http://www.rhr.com.
About SharperAgent
SharperAgent, headquartered in Denver, Colorado, coaches real estate and mortgage professionals and business owners on how to more effectively and efficiently market their services. This is achieved by providing the most relevant online and offline sphere marketing solutions available for contacting existing and prospective customers, connecting with them on a meaningful basis, and converting them into long-term, valued relationships.
For more information about SharperAgent - or to schedule a demonstration of this powerful customized marketing system - visit http://www.SharperAgent.com or call 866-614-9372.
###