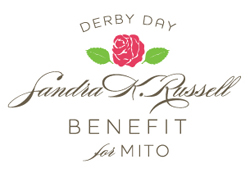 (PRWEB) April 29, 2011
The event is held in memory of Sandra K. Russell, who at the age of 52 lost a courageous battle with mitochondrial disease. Sandra's husband, Gordon, is the owner of Massachusetts boutique stores "In the Pink" and serves on the Board of Directors for MitoAction.org. Tickets are available online at http://www.MitoAction.org/derbyday.
MitoAction's Executive Director Cristy Balcells says, "There are thousands of kids and adults suffering from mitochondrial disease in New England. MitoAction's mission is to provide outreach, resources, and support that immediately and significantly improve the quality of life for these people. The Derby Day benefit allows us to continue to offer free resources to these families while offering locals a fun and unique way to celebrate Derby Day."
The evening's program features participation from Winner's Circle sponsor Choate, and additional sponsors Grey Goose Vodka, Harpoon Brewery, Kappy's Liquors, Lilly Pulitzer, In the Pink, Acton Pharmacy, America's Compounding Center, and WHDH-TV. Funds raised will benefit the 80,000 children and adults who count on MitoAction's patient support, education, and advocacy initiatives each year. The evening's festivities will include a ladies' Derby hat parade and contest, silent and live auctions, gourmet food and drink from Mandarin Oriental, Boston, and Kentucky Derby-style games.
Mitochondrial disease is a non-curable neuromuscular disease that causes debilitating pain, fatigue, and organ failure because the cells of the body are not effectively able to produce energy. Mitochondrial disorders affect both children and adults; a diagnosis of "Mito" is catastrophic and often ends in death. Boston-area hospitals lead the country in both research and clinical care for patients suffering from Mito. The mission of MitoAction is to improve quality of life for all people with mitochondrial disease through education, support, and advocacy initiatives.
To learn more or purchase tickets to the event, visit http://www.mitoaction.org/derbyday or call 1-877-239-7939.
Contact:
Cristy Balcells or Susan H. Stover, 888-648-6228