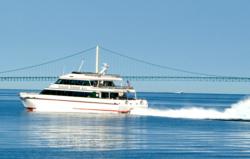 We are very excited about our new relationship with the Arnold Transit Co. and the exciting opportunities we are creating for our guests and groups
(PRWEB) April 30, 2011
Mackinac Island, MI – Two of Mackinac Island's leading institutions, Mission Point Resort and Arnold Transit Co. are coming together to provide island goers the best arrival experience when visiting the historic destination. The Arnold Transit Co. is now the official transportation partner for Mission Point Resort.
"We are very excited about our new relationship with the Arnold Transit Co. and the exciting opportunities we are creating for our guests and groups", said Doug Leedke, General Manager for Mission Point Resort. "Visiting Mackinac Island should be a truly unique experience from the moment you enter the dock in Mackinaw City or St. Ignace, to the time you leave the dock and head home. We believe that this partnership will create the ultimate arrival experience and significantly enhance the overall experience of visiting this historic Island and Mission Point Resort."
The Arnold Transit Co., the oldest and longest running ferry line in the straits, will be providing a variety of services for Mission Point Resort guests, families, as well as groups. Guests will immediately feel the Mission Point Resort presence when arriving at the Arnold Line dock in Mackinaw City and St. Ignace. Guests will receive free overnight parking on the dock premises, with a valet option
Once guests arrive on the island, they will now find it even more convenient to obtain a taxi and make your way down to Mission Point Resort. The partnership has created a new concierge gazebo desk on the Arnold Line Dock on Mackinac Island, which will be staffed by Mission Point Resort. This will be visible to resort guests when they arrive on the island dock. Guests will be able to conveniently receive taxi tickets and board the Mission Point shuttle, which will pass directly by the concierge gazebo making the arrival experience hassle free.
Group business will really be impressed with the new benefits from the partnership. Groups and conventions will find an exclusive Mission Point Resort ticket window for convenience, can order tickets online, and board right away. Convention groups will also be able to be dropped off on the East Dock of the Island, which is much closer to the resort.
In addition, the Straits of Mackinac II, one of the lines largest ferry boats, will be used at the dock as a welcome reception area for private conventions and groups. The luxury ferry will also be available for private cruises.
When it comes to spring and summer, few places are as beautiful as Northern Michigan's Mackinac Island. And when it comes to enjoying Mackinac Island to the fullest, nothing can compare to Mission Point Resort, one of the Island's largest and most diverse resorts. Whether you are experiencing a family vacation, romantic getaway, destination wedding, or a group conference or meeting, this newly formed partnership with the Arnold Transit Co. is a wonderful compliment and will enhance the overall experience.
For more information about the Arnold Transit Co. including schedules and ticket prices, visit http://www.arnoldline.com.
For more information about the season packages and to book your affordable spring getaway, go to http://www.missionpoint.com or call 1-800-833-7711.
Media Contact:
Kevin Frisch
Fusion Media Strategies
(989) 614-0241
kevin@fusionmediastrategies.com
About Mission Point Resort
Mission Point Resort on Mackinac Island, Michigan, is the island's largest and most diverse resort. It has 243 rooms and is nestled on the southeastern shore of Mackinac Island, overlooking Lake Huron. The 18-acre resorts features 38,000 square feet of meeting space, movie theater, executive putting course, observation tower and historic museum, four restaurants, heated outdoor pool, spa and fitness center and the Kids Island Club for children. It has been selected among the "Top 100 Family Resorts" by Outdoor magazine. "Its season is from May 6 through October 24."
About Arnold Transit Co.
For more than 133 years Arnold Transit Company has served the Straits Area and Mackinac Island. The Arnold Line features the large, fast, comfortable, twin hulled triple decked catamarans. Enjoy magnificent views from the open-air decks or relax in the comfortable, glass enclosed, passenger lounges. There is plenty of room to walk about. Arnold Transit Co. has frequent departures from Mackinaw City and St. Ignace to historic Mackinac Island.