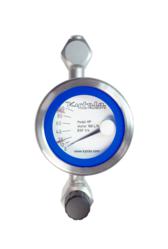 Designed to work in harsh and hazardous conditions.
Muurame, Finland (Vocus/PRWEB) April 08, 2011
Hans Kos, President, Kytola® North America, stated, "This is a great addition to our product line as it compliments our flow business very well." Kytola's® new armored metal tube flow meter has many advantages. It was designed to safely work under harsh and hazardous conditions and is ideal for use in high pressure and temperature applications. It is compatible with a wide range of liquids or gases. Especially appealing is its accuracy in low flow ranges, long lasting spring system, alarm-ability and ISO certification. As with all quality crafted Kytola® products the armored metal tube flow meter is made in Finland so it is rigorously field-tested for durability, accuracy and consistent batch and process production.
This new product can be purchased directly from Kytola® or through one of their factory-authorized distributors. For more information or to find a Kytola® factory-authorized distributor in your area, please contact in North America 678-701-3569 or Finland +358 207 7906 90.
About Kytola®
Kytola® Instruments based in Muurame Finland is a company of highly trained engineering specialists who provide superior flow solutions that are globally unmatched for reliability and workmanship. Kytola® Instruments portfolio includes variable area flow meters (rotameters), industrial flow meters, acrylic flow meters, glass tube flow meters, wastewater meters, oval gear meters, positive displacement meters, sealing liquid monitors, lubrication systems, pressure control products, and a variety of flow accessories. Kytola® also owns Cubes and Tubes Oy, which offers GVC natural gas volume correctors, and OK-Vise Oy, which offers low-profile clamps, rotary pallet systems, RPS accessories and tooling blocks. Kytola Instruments has manufacturing locations, sales and services in North America and Europe.
###