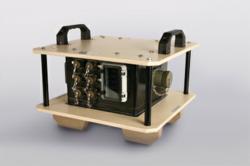 Shelton, CT (PRWEB) April 20, 2011
Lex Products, a leading manufacturer of portable power distribution and control products for entertainment, military and industrial markets, announces the new LEX Mobile PowerHOUSE™ series of products. They are offered in 40 Amp, 40 Amp Feed-Thru, 100 Amp and 800 Amp versions.
These units are designed to be operated in deployment training maneuvers, installation management facilities, field operations and applications requiring ruggedized equipment. These units are fit for use in extreme climates. The design features are modeled from the MEPDIS-R System, lab tested, field tested, approved and deployed around the world by the United States Marines.
The LMP Series is constructed for the soldier's safety, portability and ease of use. The Lex proprietary construction of advanced engineered materials ensures years of trouble-free service. Design features include heavy duty molded rubber enclosure for superior impact, weather and chemical resistance. The base and handles allows stacking for less storage space and transportation.
Joe Birchak, Senior VP of Lex Military Power Systems says "This new series broadens our product line to include solutions for portable electric power system requirements compatible with both legacy systems in the field as well as Lex systems now in use by the USMC, US Army Force Provider, US Air Force, US Navy and Commercial systems around the world".
For additional information on the LEX Mobile Power Series, or other military products, contact Lex Products, 15 Progress Drive, Shelton, CT. 06484. Phone (203) 363-2209, or e-mail at info(at)lexproducts(dot)com.
Lex Products manufactures superior power distribution and control systems for demanding entertainment, military and industrial markets. The focus of Lex is to help design your portable power systems to deliver electrical power when and where you need it. Their products include Portable Power Distribution Boxes, Cable Assemblies and Cable Protectors. To learn more about the entire Lex Products offering, visit the Company's website at http://www.lexproducts.com.
###