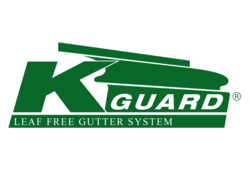 We are confident that existing, well-capitalized construction organizations and home improvement contractors will benefit from offering this unique, high quality, high margin product.

-- Rich Mannino, General Mgr. K-Guard
St. Louis, MO (PRWEB) April 01, 2011
K-Guard® is searching for a solid construction or home improvement business in the St. Louis market. This is an exclusive opportunity with the leader in gutter protection systems, K-Guard®.
K-Guard® dealers are not franchisees. The K-Guard® license agreement gives the dealer the freedom to operate their business as they always have. As a K-Guard® dealer home contractors are able to maintain complete, start-to-finish control over their business.
The K-Guard Leaf Free Gutter System® is not a topper product—the product is screwed directly into rafter tails and fascia board. The K-Guard Leaf Free Gutter System® is a completely engineered, fully integrated, leaf-free gutter system with unmatched strength, durability, and capacity. The system can handle approximately 20 inches of rain an hour! Clients will not only appreciate the way it works but will also love the way it looks. Homeowners will quickly see the benefits of the K-Guard system; it takes their worry and risk away, it adds beauty and value to their home, and it pays for itself by protecting the gutters as well as eliminating the need to hire a professional to clean them. The K-Guard Leaf Free Gutter System® also comes with a lifetime guarantee.
K-Guard currently has existing dealers in more than 30 states and Canada.
In a side-by-side comparison K-Guard offers a full 5-inch wide gutter system, compared to the usual 3 to 4 inch systems. K-Guard® is a fully integrated system whereas the others consist of a gutter and hood or cap. The K-Guard® system is attached to the fascia board and rafter tails, not roof shingles. Roof warranties are not jeopardized. The K-Guard® system is engineered to fit properly on the home and does not touch or interfere with the roof and roof line. With several color options, customers can choose a color that best compliments their home, not simply try to match an existing gutter. The dealer picks which colors they want to offer. All of this comes at a price that beats the competition. The cost of the K-Guard Leaf Free Gutter System® includes the full 5-inch gutter and hood. Other companies advertise the cost of the hood or cap but then charge extra for the gutter.
K-Guard lists the following advantages that come with being a K-Guard® dealer:
~Exclusive territory(s)
~Advertising and training support including vast marketing material
~Sales support and training
~Free tech services and maintenance support
~Freedom to choose a coil supplier
~Exclusive right to purchase the roll-forming machinery required to produce K-Guard® gutters
~On-site training for machine operation
~Pay no royalties
Founded 15 years ago, K-Guard has built a reputation with consumers for offering a superior product and with peers for how they select their dealers. Matching the best dealers with the best product produces unsurpassed customer satisfaction.
"Each dealer is carefully selected by K-Guard® to ensure that they meet the high standards held by our company. Each dealer is selected for their experience, workmanship, and attention to detail." -- Rich Mannino, General Mgr. K-Guard
To find out more about becoming a K-Guard® dealer go to http://www.kguard.com or call Justin Seymour at 1-800-435-4356.
# # #