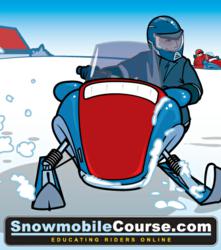 ...we're thrilled to now provide students with the opportunity to obtain snowmobile safety certification online.
Boise, ID (Vocus/PRWEB) April 01, 2011
The Idaho Department of Parks and Recreation now offers snowmobile safety education on the Internet, through SnowmobileCourse.com. This online course, developed by Fresh Air Educators, features a narrated and interactive study guide, as well as visual exam and quiz questions.
Idaho's Off Highway Vehicle Program, part of the Department of Parks and Recreation, strongly encourages snowmobilers of all ages to take a snowmobile safety course before heading out on the trails. The SnowmobileCourse.com comprehensive guide prepares students for safe and responsible operation, covering a wide range of topics from basic snowmobile operation and maintenance, to emergencies and survival. The course also contains Idaho-specific information such as registration and licensing regulations, equipment requirements and avalanche safety.
"We commend Idaho State Parks for offering their snowmobile safety education program in an online environment," says Kerry Moher, V.P. of Business Development with Fresh Air Educators. "We already offer a hunter safety course and a boating license course online for Idaho, and we're thrilled to now provide students with the opportunity to obtain snowmobile safety certification online as well."
In order to ensure a greater level of student participation and retention, the online snowmobile safety course is made to cater to all learning styles. The course and exam questions contain hundreds of detailed illustrations, as well as narrated course content and interactive exercises. Moher adds, "Our students do exceptionally well in all our online courses, and that's due to the different teaching methods we use throughout. Whether you're a visual, auditory or hands-on learner, the course has something to offer you."
The online snowmobile safety course has a one-time fee of $29.95, which includes the course, chapter quizzes and unlimited attempts at the final snowmobile safety certification exam for Idaho. The course is also available to anyone as a free study guide. For more information about Fresh Air Educators or online outdoor education, please visit FreshAirEducators.com.
# # #