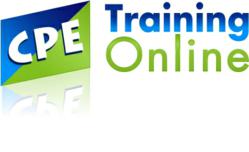 We are pleased provide such a wide variety of NASBA-approved CPE training – online, 24x7, quick turnaround, affordable - a great opportunity for busy CPAs.
Mendham, NJ (Vocus/PRWEB) April 05, 2011
CPE Training Online – cpetrainingonline.com - announced today the launch of its updated web site that offers career-enhancing online Continuing Professional Education (CPE) courses for Certified Public Accountants (CPAs). CPE Training Online provides hundreds of easy-to-find NASBA-approved online training courses focused on building skills...and CPE for CPAs. These courses enable CPAs to build hard skills and soft skills (even earn a certification) in new and related areas…and earn CPE at the same time.
Certified Public Accountants (CPAs) who want to try e-learning for CPE credit can take a CPE course at no cost! This is a complete course - the real thing – and earns real CPE credit (3 NASBA CPE credits).
According to John Reiling, PE, MBA, PMP, President of CPE Training Online, "We are pleased provide such a wide variety of NASBA-approved CPE training – online, 24x7, quick turnaround, affordable - a great opportunity for busy CPAs. The new web site interface enables CPAs to rapidly find the training that interests them from among hundreds of courses – enabling them to virtually see the whole catalog nearly at a glance. And the training…not only helps accounting pros build skills in new and sometimes surprising ways…but also to better balance their work place demands, long commutes, and other challenges (family, home, and community responsibilities) - while earning CPE. And the training is uniquely "skill-based" (not updates on tax and accounting topics) – enabling CPAs to grow their soft skills (leadership, team building, management, communication) AND business hard skills (project management, finance, business analysis, human resources, MS Office tools,...) to meet current challenges – and even earn a certification…while satisfying CPE requirements."
CPE Training Online provides accounting CPE courses in all 18 NASBA CPA "Fields of Study"...and students can drill down through hundreds of courses in seconds to the training they want and need. The expansive CPE Training Online catalog is always evolving with updated NASBA-approved CPE training courses on a regular basis. Plus…courses are taken on the CPE Training Online Learning Portal, where professionals have rapid access to the training, printable versions of the topics, job aids, related helpful resources…AND easy ability for CPAs to immediately print CPE certificates upon course completion.
Consistent with its mission of providing high quality, time efficient, and cost effective training for CPAs, this 24x7 online training enables CPAs to expand their skills in four ways:
1. Builds all important soft skills with CPE credit courses
2. Earns CPE to build skills in accounting, finance, administration, and related areas
3. Expands technical computer expertise while earning CPA CPE
4. Broadens skills into related fields for enrichment, advancement, or to prepare for a certification exam (and even a career change).
CPE Training Online - http://www.cpetrainingonline.com, provides one of the most extensive offerings of online Continuing Professional Education for CPAs on the web. CPE Training Online is part of Pro Training Online , which serves professionals with online training in information technology, project management Six Sigma, and other professional fields.
For addition information, contact:
John Reiling, PE, MBA, PMP
CPE Training Online
###