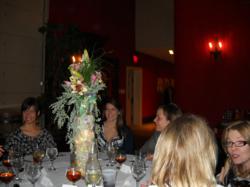 The experience was simply wonderful. I left the event smiling and feeling replenished.

Jacqueline C.
Lexington, KY
Lexington, KY (PRWEB) April 22, 2011
The second Bleu Plate Confidential 'underground dining' event has been announced. The event will take place on May 14th where a group of 48 adventurous and trusting souls will attend a dinner without previous knowledge of where it will be, what they will eat or what to even expect.
The premise: guests are invited to a dinner prepared by a local chef (guaranteed to be fabulous food). It is not held at a restaurant, but in an unconventional place, like a warehouse, rooftop, office building or someplace comparable. The meal is be themed to match the location. The meal, chef and location remain a secret until a few days prior to the event when ticket holders receive location information as well as a password that they will be required to give at the door (just like the Speakeasys of yesterday).
The first Bleu Plate Confidential (offered through Bleu Plate Tours) was held at Lexington Brewing Company (an Alltech Corporation company) with a limit of 48 tickets available. The event was sold out and highly well-received by attending guests.
The second Bleu Plate Confidential, scheduled for May 14th, is anticipated to be equally well-received. "We have secured a fabulous host location," stated Laura Mize, Owner of Bleu Plate Tours. "I anticipate that the locations are going to continue to get more and more interesting as we continue to offer these dinners."
Tickets are currently on sale and are anticipated to sell out quickly as a limit of 48 tickets are available.
Bleu Plate Confidential is an event offered by Bleu Plate Tours, a Lexington, Kentucky-based walking food tour company. To become aware of upcoming events, sign up for the Bleu Plate Tours' email newsletter.
# # #