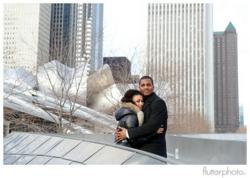 Washington, DC (Vocus/PRWEB) April 05, 2011
Many photographers rely on referrals for new business, for Flutterphoto it has become the main source of leads. Not only are referrals free advertisement but they are the most sincere form of flattery. Flutterphoto had the unique opportunity to photograph a bride-to-be on four separate occasions before her own wedding day. Flutterphoto met soon-to-be bride, Kelli, at a destination wedding in 2007 at Niagara on the Lake in Ontario, Canada. They also bumped into her at yet another friend's wedding, as a bridesmaid, at the Carnegie Institute in Washington DC. Alejo Pesce just finished shooting her engagement session, which also took place in Chicago, and he is anxious to finally capture Kelli as an absolutely gorgeous bride. But before that happens, they will get another chance to photograph Kelli, this time at friend's wedding at the fabulous new Cosmopolitan Hotel in Las Vegas, Nevada this April 2011.
Kelli is a true entrepreneur and creative, she recently launched the opening of her boutique clothing store called "Shop 857" in popular Chicago neighborhood. Her store features must-have pieces for any wardrobe that are hard to find. Kelli is marrying her lovely finance Tim this summer in Chicago, Illinois at the Art Institute of Chicago in the Modern Wing. Kelli & Tim's wedding marks another destination wedding for the destination wedding photographer couple, but this trip will be a lot closer than their other destinations, which include Mexico, Aruba, India and more. Flutterphoto wedding photographers and founders, Alejo Pesce and Theresa Monturano, will travel to the mid-west this summer to photograph Kelli and her fiancé Tim, in their Chicago destination wedding. Working with Kelli again, is a testament to the dedication and wonderful experience that Alejo and Theresa provide for their brides and grooms, as well as their guests. Their images speak for themselves and tell the true story of a wedding day, and the love shared by all who attend.
About Flutterphoto LLC.
Flutterphoto caters to international wedding photography as well as national wedding photography. Flutterphoto is the combined enterprise of photographers, Alejo Pesce and Theresa Monturano, now married, who bring together passion and expertise to create beautiful images that celebrate life's milestones. Flutterphoto is the proud recipient of Wedding Wire "Brides Choice Awards" for 2009, 2010, 2011. They are also the recipient of three WPJA (Wedding Photojournalism Association) awards for Q1 & Q4 2009.
Their talents culminate in the specialization of photo-journalistic coverage of weddings. They strive for a modern and clean style with the sensibility of classic wedding photography. Their belief is that with a bit of forethought and careful approach, the resulting imagery is both evocative and timeless...giving their clients something worth cherishing. Their base camp is in Reston, Virginia, just minutes from DC. This puts them within an easy drive to Baltimore and Richmond. Dulles International Airport is also just a short cab ride away and so the world is fair game when it comes to weddings. So far they have photographed weddings in such distant lands as India, Canada, Aruba, Mexico, and California and are happy to jump on a plane to be your photojournalistic wedding photographers!
###