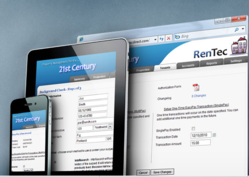 Grants Pass, OR (Vocus/PRWEB) April 05, 2011
Although the economy has shown a sparkle of recovery, it is still as important as ever for property managers to remain efficient and keep costs low. Rentec Direct introduces a very powerful means of doing so by allowing property manager to guarantee timely payments as well as automate rent collection. Gone are the days of waiting for the mail service to deliver a tenant's payment, making a trip to the bank to deposit it, and then waiting days for it to clear. Not only is that process inefficient, but it is costly. Rentec Direct can empower property managers to eliminate that wasteful activity by offering direct debit ACH and credit card processing for rent payments.
ACH payments have been around for years and are in use by many recurring billing providers such as utility companies, cable companies, and telephone companies. ACH is a natural fit for property managers. ACH provides a way for an organization or landlord to directly retrieve funds from a tenant's bank account and electronically deposit the funds into the landlord's bank account. This all happens automatically and electronically. Best yet, the accounting all takes place within Rentec Direct's property management software. When a payment is successful, the payment is posted to the tenant's account offsetting their rent charge. If a payment bounces, not only do you know much sooner than you would with a paper check, but Rentec's system automatically updates the payment on the tenant's account thereby saving the manager time in processing an otherwise time consuming activity.
Rentec now also provides landlord's the ability to accept credit card payments. Traditionally credit cards have been avoided by the property management community due to their high processing fees; however, Rentec is determined to break that trend with merchant services geared specifically for property managers. Rentec has formed exclusive arrangements with the merchant services industry to let property managers finally process credit cards at reasonable rates. It finally is affordable to accept rent via credit card and the tenants receive the same benefits of using a credit card as they would for any other transaction.
Every property manager has goals to have longer term tenants. Lower turnover means more income collected on a property. Providing an array of payment methods, along with the other powerful tools such as a tenant portal, keeps tenants happier longer which leads to lower turnover.
To learn more about tools that enable landlords to accept ACH and credit cards, along with other critical resources such as tenant screening, visit http://www.rentecdirect.com/.
###