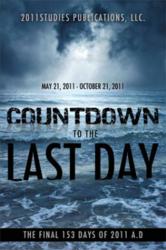 Are we just months away from the greatest event in human history?
Longwood, FL (Vocus/PRWEB) April 04, 2011
Are we just months away from the greatest event in human history? The groundbreaking new book Countdown to the Last Day: The Final 153 Days of 2011 A.D. ($26.99, paperback, 978-1-61215-443-5; $9.99, e-book, 978-1-61215-271-4) by 2011studies Publications, LLC, answers with an emphatic YES! According to this comprehensive Bible study, we are at the precipice of the great day in which Christ will come back in power and great glory.
For the past year, news media such as MSNBC, Fox News, Forbes, PNR, and many other local and worldwide media have covered stories about the popular notion that May 21, 2011, is the day of the rapture of Christians worldwide. Are these ardent believers proclaiming May 21, 2011, wrong? The author of Countdown to the Last Day believes God's Word is still revealing information concerning the rapture." Marty Cattuzzo of 2011studies Publications, LLC, believes they are.
"God is not random in His works, as He has established historical patterns which relate to the final days of history," says Cattuzzo. "This means that God has controlled all of history in order to show what would transpire in the last days. If we know biblical history, we can know the things pertaining to the end, including Christ's coming. That great day is fast approaching, and we will soon be in the final countdown to the last day. The final 153 days are May 21-October 21, 2011!"
Countdown to the Last Day covers such questions as: Why does God mention the catching of 153 great fish in the Bible? How does Elijah calling fire down from heaven upon the two-thirds (of the 153 men) relate to the 153 days of the end? Will the houses of worship experience an overthrow similar to Christ expelling the moneychangers from the temple? Since 1,000 years are as a day with the Lord, is the 7,000th anniversary of the flood in the year 2011 significant?
Xulon Press, a division of Salem Communications, is the world's largest Christian publisher, with more than 8,000 titles published to date. Retailers may order Countdown to the Last Day through Ingram Book Company and/or Spring Arbor Book Distributors. The book is available online through xulonpress.com/bookstore, amazon.com, and barnesandnoble.com.
# # #