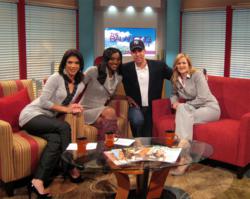 I am committed to women and their pain relief needs.
Spring Grove, Illinois (PRWEB) April 11, 2011
Dr. Sonia Kwapisinski, a Spring Grove, Illinois, Chiropractor, will be featured on the Television Show "The Balancing Act" on the LifeTime Network. She will be announcing a new pain relief guide just for women. This is a free guide that will give women ways to get rid of their headaches, neck and back pain fast.
Many women suffer in pain needlessly. A recent study in the Journal of Manipulative and Physiological therapeutics showed that migraine sufferers reported significant relief of their symptoms with chiropractic care with many patients reporting up to 90% improvement in their headaches.
So many patients are dissatisfied with traditional treatments and with adverse side effects from drugs being on the rise, there is a more natural approach that is available to women that does not have any adverse side effects and is painless. Years of research have gone into the development of the Impulse Instrument to create gentle and specific chiropractic adjustments that are safe and effective for women of all ages. This specific, gentle technique can help with the aches and pains of pregnancy, migraines, carpal tunnel syndrome, fibromyalgia and neck and back pain. It can also help reduce stress and fatigue and promote better overall health.
As opposed to taking medication that masks pain, chiropractic care seeks to locate the source of the symptoms and addresses the underlying cause, so the problem does not keep recurring. Dr. Kwapisinski provides short term, relief care that is affordable and often covered by most insurance plans. The goal is to get patients out of pain as quickly as possible. This type of relief care is perfect for the busy woman's lifestyle.
Dr. Kwapisinski is committed to women's pain relief needs. She practices at Back In Motion Physical Therapy and Spine Center in Spring Grove, IL, and is now accepting new patients. "It is our mission to provide the best overall patient experience," she says.
Women in pain can go to http://DrSoniaK.com and download a free Women's Pain Relief Guide to Chiropractic!
The Show will air on LifeTime Television April 11 at 6 am on the LifeTime Network. Tune in!
# # #