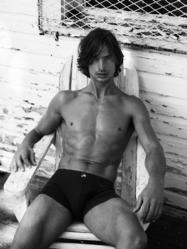 We've introduced a new service for men, sending briefs as a monthly subscription service worldwide.
Vancouver, B.C., Canada (Vocus/PRWEB) April 19, 2011
The problem is always the same, he has everything already! What is also true is he has plenty of... unsightly underwear. It takes no time to splurge on a gift he wouldn't think of buying for himself (love him anyways), luxurious and stylish briefs at Pantybypost.com.
We are solving the problem of what to buy for him and we're making it dead easy to do it (what women don't need is another task on their to-do lists)! We know women are way too busy these days and we also know they still like to see their men dressed well, right down to their sexy briefs. Voila!
The details:
PantybyPost.com is an online monthly subscription service that sends Briefs for Men and French Panties for Women in the mail to your loved one. The Men's Package (and it's big, wink!) is a duration of one ($30), two ($55) or three months ($80) worth of bamboo or natura eco briefs in black, charcoal or white.
It's simple and convenient to use, go the Men's Only Room, select your package of Briefs and voila! Women who order briefs for their guys can pamper themselves while they're at it by ordering herself a pretty, surprise French Panty by Post!
Hmmm, sounds like win-win gifts that will please everyone?
PantybyPost.com has introduced a new service for men, sending briefs as a monthly subscription service and they ship worldwide. This service answers the ongoing dilemma for women: What to buy the men in their life? The Briefs packages for men are thoughtful, charming and practical at the same time.
Media Kit, click here:
Please email Natalie(at)pantybypost(dot)com for hi res graphics or additional information.
For the Groom and his Men:
Our Briefs packages are ideal for groomsmen gifts and for the groom himself. The stylish bamboo pocket boxers are specifically designed for fitted clothing, tailored suits and that smokin' tux. The natural fiber briefs arrive in your mailbox in a selection of colours.
How to buy:
Online: http://www.pantybypost.com
Call: 1-888-707-2659 in North America, 7 days a week, 8am to 10pm PST
Europe Call: 011-604-307-9642
We ship worldwide, accept all currencies, VISA, MC and AMEX
###