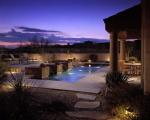 "Anyone that can afford to stay at one the high-end resorts should consider staying in one of our homes instead. Its a much better value". -Steve Schwab, CEO Arizona Lodging Experts
Phoenix, AZ (Vocus/PRWEB) April 01, 2011
Arizona Lodging Experts has had its most profitable season yet. The company was acquired by Steve Schwab in 2009 when the company was 9 years old. Steve Schwab has been been the owner of another successful vacation property management company in Mexico called Seaside Reservations for the last 10 years, and with his experience and expertise he has re-branded the company as Arizona Lodging Experts and has seen phenomenal growth. Over the course of the last 4 month peak season, the company had occupancy of 3,650 occupied nights. That is more than the company did in its first 10 years.
Arizona Lodging Experts seeks to reach the high-end demographic of individuals seeking short term rentals of resort style homes. Many of Arizona lodging Expert's clients include celebrities, team owners and athletes. Most of the rental properties are located within gated communities and offer amenities such as golf privileges and a country club lifestyle. The average price per night is often significantly less than a comparable resort and the space is usually 3 times that of a hotel suite. "Anyone that can afford to stay at one the high-end resorts should consider staying in one of our homes instead. It's a much better value," said Steve Schwab, CEO Arizona Lodging Experts.
The Arizona Lodging Experts team is headed by Designated Broker Spencer Farnsworth. Spencer came over with the acquisition and was promoted by Steve Schwab when he purchased the company. Spencer is responsible for new property acquisitions and oversees all transactions.
Steve Schwab President and CEO of Arizona Lodging Experts also owns: Sea Side Reservations, Rocky Point Vacation Homes, Arizona Lodging Experts, and Realty Executives Mexico.
###