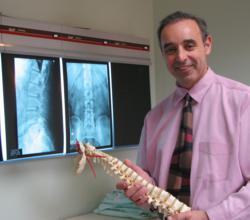 The Schroth Method of scoliosis exercise empowers the patient. When performed regularly, it can help halt curve progression, create a better postural appearance, improve lung function, and reduce pain and other physical symptoms related to scoliosis.
Woburn, MA (Vocus/PRWEB) April 04, 2011
Dr. Marc Moramarco recently returned from his sixth visit to the Asklepios Katharina Schroth Clinic, a two hundred bed German inpatient facility dedicated to the non-invasive treatment of scoliosis using the Schroth Method. The Schroth Method is a curve pattern specific exercise and breathing technique for the three dimensional spinal condition.
While in Germany, Dr. Moramarco spent a day with Christa Lehnert-Schroth, PT, author of "Three-Dimensional Treatment for Scoliosis: A Physiotherapeutic Method for Deformities of the Spine." The two discussed the positive patient outcomes Dr. Moramarco's US patients are achieving, scoliosis exercise and improving patient awareness of the Schroth Method.
Dr. Moramarco began instructing scoliosis patients in the Schroth Method at his Boston area practice in 2007 after becoming the first US practitioner certified at the German facility. Patients have come from across the US, Canada and Central America and this spring he will treat patients from as far away as Australia, Hong Kong, and Eastern Europe.
The Schroth Method, celebrating its 90th year, has patients focus on trunk elongation, and correction of postural imbalances during the simultaneous use of the proprietary breathing technique known as Schroth 'rotational breathing.' Patients find the method quite effective with continued practice.
As a young woman, Christa Lehnert-Schroth, PT, worked assisting her mother, method creator, Katharina Schroth, instructing others in the three-dimensional exercise approach for scoliosis. Lehnert-Schroth went on to become an accomplished physical therapist who continued to advance her mother's innovative work over the course of her own lifetime. Her work on behalf of scoliosis patients has been tireless. Retired as a director of the clinic bearing her mother's name, her interests and work persist on behalf of patients around the globe seeking an alternative to surgery for the treatment for scoliosis.
Lehnert-Schroth provided Dr. Moramarco with a private guided tour of the permanent Schroth exhibit at the local museum of history. The museum houses a comprehensive collection documenting the work of the family since the inception of the Schroth Method in 1921.
Dr. Moramarco also attended two days of patient sessions at the Asklepios Katharina Schroth Clinic with Axel Hennes, PT, the clinic's senior physiotherapist. At the clinic, Dr. Moramarco learned the most up to date techniques used for conservative scoliosis treatment.
Dr. Moramarco looks forward to each return trip to the clinic he first visited nine years ago as a parent looking for a way to help his own daughter stop the progression of adolescent idiopathic scoliosis.
Thoroughly impressed with the knowledge obtained on that initial visit, and witnessing firsthand the positive outcomes patients can achieve using Schroth therapy, he has since gone on to instruct adolescents and adults seeking help for curves ranging from mild to severe.
He views his trips to Germany as a way to refine his knowledge and expand his expertise. He is truly passionate about this beneficial approach to scoliosis management.
Incorporated into daily life, the Schroth Method aims to empower, halt curve progression, create an improved postural appearance, improve lung function, and decrease pain related to scoliosis.
# # #