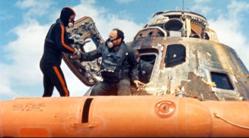 Drs. Mitchell and Chopra will present their visions for consciousness-based solutions to global conflict, recently exacerbated by the fresh wounds of Mideast hostilities and the natural and technological environmental tragedies in Japan
Petaluma, CA (PRWEB) April 07, 2011
Conflict among people and nations, including current hostilities in the Mideast, can find resolution from insights in consciousness science and education initiatives, according to research by the Institute of Noetic Sciences (IONS). To address new scientifically-based perspectives on the promise of peace at its San Francisco conference this summer, IONS announced keynote speakers Apollo 14 astronaut Dr. Edgar Mitchell and Deepak Chopra will call on participants to be spiritual superheroes and consciousness explorers to help influence the way nations shape the future.
IONS also announced more than 30 high-impact talks by 40 global visionaries at the international Noetic 2.0: Tools and Technologies for a World Transforming, July 20 - 24, 2011, at the Westin Market Street Hotel. The five-day conference offers professionals, community leaders, social advocates, educators, and lifelong learners new knowledge, experience, and hope from the latest consciousness science discoveries for individual and collective transformation. Registration and information is available on the conference website.
With rare insight from their pioneering work in the noetic sciences, Drs. Mitchell and Chopra will present their visions for consciousness-based solutions to global conflict, recently exacerbated by the fresh wounds of Mideast hostilities and the natural and technological environmental tragedies in Japan
Dr. Edgar Mitchell, who was the 6th astronaut to walk on the moon and founded IONS following that lunar mission, will reflect on IONS' 38-year history. He will identify some of IONS' scientific and education programs that can teach participants to become consciousness explorers who can influence a new vision of the future. Dr. Mitchell's many credentials include four honorary doctorates and a PhD in Aeronautics and Astronautics from MIT. A luminescent lecturer, he has authored several books, including "Psychic Exploration: A Challenge for Science" and "The Way of the Explorer."
Deepak Chopra will present a conference keynote titled "The Seven Spiritual Laws of Superheroes," a symbolic term he assigns to the social subconscious that has the potential to create a new idea of being. Chopra also will address a post-conference fundraising event, open to the public, to benefit IONS and the Chopra Foundation the last day of the conference, July 24, 2:30 - 4:30 p.m. He will address the many questions of higher consciousness, transformation, and healing. Reservations for the benefit are available by checking the "post-conference only" check box on the conference registration form.
IONS also announced author Dr. Dan Booth Cohen has been added to the panel titled "Revisiting Slavery's Legacy - What Would Healing Look Like," led by racial justice historians Belvie Rooks and Thomas DeWolf. Dr. Cohen will bring insights from the science of morphogenetic resonance. He will lead an experiential element called Systemic Family Constellation, in which participants can explore trans-generational wounds, allowing for deeper dialogue, reconciliation and healing.
Other featured speakers addressing the consciousness science discoveries that inform life-enhancing visions of a safe and peaceful future and help individuals make a difference in the world: Dr. Marilyn Schlitz, IONS president and CEO, Rachael Naomi Remen, Brian Swimme, and Rupert Sheldrake. (See related document, Four Worldviews Transforming the World.)
About the Institute of Noetic Sciences (IONS)
The Institute of Noetic Sciences, founded in 1973 by Apollo 14 astronaut Edgar Mitchell, is a 501(c)(3) nonprofit research, education, and membership organization that supports individual and collective transformation through consciousness research, educational outreach, and engaging a global learning community in the realization of our human potential. Funded by members, donors, and grants, IONS' primary program areas are consciousness and healing, extended human capacities, and emerging worldviews. For more information,visit noetic.org.
# # #