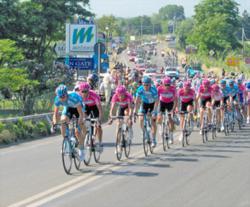 "The 2011 Giro d'Italia is planned to be the most challenging cycle race to date!"
Austin, TX (PRWEB) April 06, 2011
The 2011 Giro d'Italia celebrates the 150th anniversary of Italy's unification. It is also quite possibly the most difficult tour yet. Italy's most famous cycling tour starts May 7th in Turin, and over 22 days covers 3496 kilometers across 17 of Italy's 20 regions.
According to Arthur Simmons, author and manager of http://www.italybiketours.net, the 2011 Giro looks to be the toughest yet. "It's incredible. The route covers 40 major mountain climbs; in comparison, the 2011 Tour de France has only 23. These strenuous climbs challenge even world-class cyclists."
One early favorite who won't appear this year is Riccardo Ricco. Italy's "bad boy" of cycling recently retired from the sport after a series of doping allegations. Ricco (nicknamed "The Cobra" for his aggressiveness both on and off the track) was hospitalized in early February for undertaking a blood transfusion with blood he had stored in his refrigerator for 25 days.
Whether Ricco appears or not, many Italians are rooting for Vincenzo Nibali (aka "The Shark"). Fresh off three wins in 2010 (at the Vuelta a España, Tour de San Luis and Tour of Slovenia), Nibali looks to be the front-runner. He placed third in last year's Giro d'Italia, and, as a native of Sicily, is very familiar with the island's terrain in this year's race.
Cycling Route
The 2011 Giro d'Italia begins in Turin with a 21.5 kilometer team time trial. From there, the route heads south to Sicily – with a grueling climb up Mt. Etna – then winds back along the Adriatic coast before finishing with a climb of Colle delle Finestre just outside Sestriere.
If the 40 mountain climbs don't decide a winner at this year's Giro, the individual time trials in Milan will. The 32.8 kilometer route just may determine who receives the "maglia rosa" (the coveted "pink jersey" awarded for the fastest overall time) this May.
Where to Bike in Italy
Fans of the Giro d'Italia may also want to bike in Italy. While few would bike the entire route themselves, there are plenty of cycling tours in Italy to choose from. For example, die-hard cyclists can enjoy the challenges of the Italian Alps, while others may enjoy the laid-back atmosphere of cycling in Sardinia.
Simmons believes bicycles are the best way to see Italy. As he puts it, "Cycling in Italy lets you experience the Old Country at its natural pace."
The 2011 Giro d'Italia runs from May 7th – May 29th. NBC Universal will provide live coverage of the race with commentary and detailed analysis. For more information on cycling in Italy, please visit http://www.italybiketours.net.
# # #