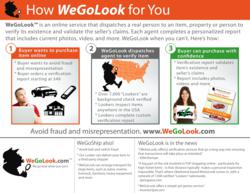 Onsite Inspection by Over 7,000 Agents = No Fraud or Misrepresentation of Items!
Nationwide, USA (Vocus/PRWEB) March 31, 2011
WeGoLook.com launches the nation's first on-site inspection company for almost any item. Online consumers everywhere are breathing a sigh of relief now that WeGoLook is dispatching thousands of nationwide agents to verify and inspect items onsite in order to verify existence and seller's claims for them.
Consumers no longer have to hold their breath to see if the item they purchased online or the date they plan to meet were accurately depicted by the seller's listing. The days of reading about eBay or craigslist scams will soon be limited as more and more consumers discover the incredible service provided by WeGoLook.
Long distance item, auto, property and date verification is now a click away and may be even be tax deductible. Flying to different locations to personally inspect the item you wish to purchase can be very expensive. By utilizing services from WeGoLook, the online consumer can easily dispatch the "Looker" within hours to complete the verification order. Domestic and international consumers have a pair-of-eyes and feet anywhere in the USA. "This is a unique, exciting and empowering service that gives consumers of auction items, autos, property, dates, and even rental property owners information they otherwise would not easily have access to and ensures peace-of-mind and the avoidance of costly surprises associated with fraud and misrepresentation" said Robin Smith, co-founder.
Think of WeGoLook as your personal Inspection Inspection and Verification Service. Buying on eBay, ola.com, craigslist or wanting to verify current photos, video and ID of an online date before meeting them begins at only forty-nine dollars. Purchasing items online just became safer and easier through WeGoLook.
WeGoLook has made it easy for consumers to order a verification report to check on the condition and existence of almost any item throughout the USA. WeGoLook service is extremely cost efficient for consumers and business owners alike. Advantages of ordering an inexpensive onsite verification report include:
Convenience - WeGoLook's inspector will meet with the seller wherever the item is located within the USA. Customers receive the completed vehicle verification report online which includes current videos, pictures and verification of make/model, video of a working seller demonstration, and more. WeGoLook can also arrange transport and shipping.
Peace of mind - Customers deserve peace-of-mind when spending thousands of dollars on an unseen item. The basic vehicle verification report starts only at $49.00. WeGoLook customers don't become a victim of misrepresentation or fraud.
Trust - WeGoLook doesn't buy or sell any items. They only inspect them and provide unbiased, independent and observational verification reports with pictures, video and more.
WeGoLook is offering the online platform to form strategic partnerships with leading networks and consumer websites. Affiliate and white-label partners may offer unbiased third-party vehicle inspection services to their customers while increasing business, online conversions and generate additional income.
WeGoLook is ready to dispatch your "Looker" (background check verified) now.
###