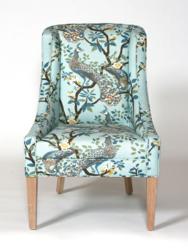 "Adding a DwellStudio fabric to a room is like adding lemon juice to a recipe—it freshens the look and gives a room some zip."
Kennett Square, Pennsylvania (Vocus/PRWEB) April 01, 2011
DwellStudio, known for fashion-forward design for interior home and children's rooms, has expanded their offering to decorative fabrics. Their designer collection for Robert Allen @ Home is now available at retail in Calico Corners – Calico Home stores across the country and online.
Designed by founder Christiane Lemieux and the DwellStudio design team, the fabrics in this collection reflect their aesthetic of hip designs, fresh colors and a livable modern look. Lemieux is also the author of a new book, Undecorate, that celebrates individual style and rooms with personality—the homeowner's, not the decorator's! These homes have a vibrant energy and look as if real people actually live there.
"The most stylish people these days understand a fundamental aspect of good living—it's always evolving," notes Lemieux. "Great style isn't necessarily a finished interior so much as it is an ongoing process."
Home decorators can have a chic lifestyle and still break rules of design, to undecorate, suggests Lemieux. "We should know that this room, this home, belongs to that person and no one else. It should bear the mark of their lives, their quirks, their travels, their family."
"That's what I love about having DwellStudio fabrics at Calico," she adds. "Their store associates are design enablers, not style dictators. They help customers discover their own style and follow their instincts to achieve a personal look."
The DwellStudio for Robert Allen @ Home designer collection at Calico consists of 44 prints and woven fabrics. "The DwellStudio designers like to take classic elements and give them a twist, moving them into a modern mode with clean lines and sophisticated colors," noted Greg Lawrence, vice president of creative affairs at Calico Corners – Calico Home. "Adding a DwellStudio fabric to a room is like adding lemon juice to a recipe—it freshens the look and gives a room some zip."
"We like the DwellStudio aesthetic because it's a little edgy but still accessible," stated Calico merchandise manager Lori Cropp. The fabrics are modern enough for contemporary living and can act as a sophisticated accent in transitional and even traditional interiors, she added. The DwellStudio for Robert Allen @ Home designer collection is online at http://www.calicocorners.com.
About Calico Corners
Calico Corners – Calico Home stores provide expert decorating advice and free in-home design consultation in more than 90 stores across the country. Consumers will find thousands of designer fabrics for the home at value prices; custom window treatments, blinds and shades; custom upholstered furniture, slipcovers, bedding and more. Thousands of fabrics are available online. For more information or to find the nearest store, visit http://www.CalicoCorners.com or call (800) 213-6366.
About The Robert Allen Group
The Robert Allen Group is the nation's leading designer and marketer of decorative fabrics and furnishings to the interior design trade. The company sells its products under the Beacon Hill, Robert Allen, Robert Allen Contract and Robert Allen @ Home brands. The company has showroom locations throughout the United States, Canada and the United Kingdom, and an extensive worldwide agent showroom network. http://www.robertallendesign.com.
About DwellStudio
DwellStudio is the design house for modern home and family furnishings—fabrics, bedding, accessories, table linens, travel accessories and a line of baby and children's furnishings. With graphic prints and bold colors, the company's designs find excitement in the unexpected. DwellStudio is known for its contrasting styles, clean lines and classic elements with a modern twist. DwellStudio furnishings can be found at specialty and lifestyle shops around the world and at http://www.dwellstudio.com.
# # #