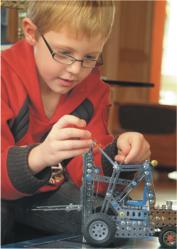 Redmond, WA (Vocus/PRWEB) April 01, 2011
Eitech America, the exclusive U.S. distributor for Eitech, the German manufacturer of steel construction and building sets; will debut new and innovative educational construction toys at the 25th anniversary of the National School Supply and Equipment Association's annual spring show in San Antonio, TX, April 7-9, booth #724.
Eitech is gearing up to showcase a number of toys suitable for early childhood and grades K-8 that offer new styles of playability, creativity, and educational value. Each Eitech Construction Set provides kids with hands-on tools for learning, fine motor skills, scientific inquiry, and investigation skills.
Featuring fully functioning replicas of machines, structures, and bridges, Eitech Construction Sets teach children valuable engineering and design skills.
Featured sets on display at the Ed Expo will include Eitech Experimental Sets; which allow for play with lights, sounds, and movement and Solar Sets; which allow for a better understanding of solar energy.
The Eitech America booth will also feature the Teifoc School Brick Construction Assortment Set. The Teifoc School Brick Construction Assortment Set includes instructions to guide teachers and parents through the building process. The set contains a selection of over 700 mix brick components, 8 masonry trowels, plastic doors and windows, mixing bowls and all the cement mortar you need to complete enough custom brick structures for up to eight children.
Eitech and Teifoc Construction Sets make the perfect rainy day recess companion or group project for class. With Eitech Construction Sets, learning can be fun!
The Eitech booth can be found at #724 at the Henry B. Gonzalez Convention Center, Apr 7-Apr 9.
Teifoc and Eitech toys are manufactured and engineered in Germany and made exclusively by Eitech, the leading European steel construction and building set manufacturer.
###