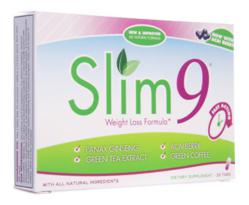 Users are also encouraged to submit their own video testimonials
(PRWEB) April 04, 2011
In response to its recent rise in online popularity Slim9 LLC, manufacturer and retailer of natural weight loss pills, made significant changes to their official website (http://www.slim9.com). The new content is designed to be more user-friendly and interactive. Slim9 expects that this will not only increase sales, but also give them the chance to form a weight loss community by providing an outlet for people to share their advice and experiences with those of similar interest.
During this time of growth Slim9 has paid especially close attention to customer feedback and responded accordingly. Users are now greeted with cleaner, more straightforward images that directly convey the Slim9 message. Content on pages like 'how it works' has also been simplified and supplemented with charts and images for visual learners. Quick weight loss tips have been added throughout the site to add further value to the user's experience.
A big portion of Slim9's success has been the buzz surrounding their weight loss pills on Facebook and Twitter. They revamped the testimonials section with videos to cater to this type of audience in hopes of receiving some viral traffic. Users are also encouraged to submit their own video testimonials and become a permanent part of the weight loss community.
These changes are unusual for typical weight loss pill brands that solely focus on marketing but are right in line with Slim9's philosophy as they intend to offer a more complete weight loss program. There have even been rumors of a public discussion board for sharing information and picking the brains of Slim9's weight loss specialists.
For more information call Slim9 at 1-877-797-5469 or visit http://www.slim9.com to see the new site for yourself.
# # #