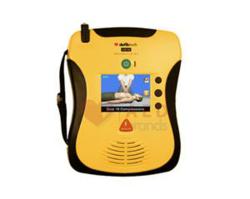 Louisville, KY (Vocus/PRWEB) April 01, 2011
ORSupply.com, the largest online marketplace for surgical supplies and medical devices, is now selling the Defibtech AED Lifeline View, the first device with a full-color video screen that shows users how to perform external defibrillation, rescue breathing and CPR.
AEDs (automated external defibrillators) revive victims of sudden cardiac arrest caused by ventricular fibrillation, a severely abnormal heart rhythm. Immediate access to easy-to-use AEDs is vital because, as studies show, more than 70 percent of victims survive if they are defibrillated within a minute or two after arrest. If defibrillation is delayed for more than 10 minutes, only 5 percent survive.
"Anybody can pick it up and use the Lifeline View, so it can help save lives," said Brent Kramer, ORSupply.com Content Specialist. "It can be used by trained EMS personnel, or businesses can keep it on hand in case of an emergency."
The Lifeline View's large, full-color interactive display gives you step-by-step instructions on the correct ways to perform life-saving procedures:

For defibrillation, the Lifeline View shows show you step-by-step- how to prepare the patient, find the pads, connect them, and exactly where to place them.
The Defibtech View AED allows the user to choose compression-only CPR or compressions with rescue breathing. If rescue breathing is chosen, the video will show you how and when to provide rescue breaths.
For CPR, a video will show exactly where you need to put your hands and how to perform compressions correctly.
The Lifeline View AED interactive display shows full, vibrant colors even under the brightest lighting conditions. Text prompts are clear and easy-to-read. High-resolution, full-motion graphics stand out on the screen.
The audio instructions broadcast in a clear, loud voice at a user-settable volume. In noisy conditions where you may not be able to hear the audio instructions, you can see what you're supposed to do. Even if you don't understand English, you can understand what the video is showing you.
Weighing less than 3 pounds, the Lifeline View is compact, portable and lightweight. But it is rugged and durable, and suitable for use in high vibration settings, including jet aircraft, helicopters and boats.
The Lifeline View runs extensive self-tests daily to be sure that it is working properly, and a bright, active status indicator light lets you know the unit is ready. The device instantly communicates the operational status of the AED, battery and pads, expiration dates, and even gives you unit information such as its serial number.
About ORSupply.com:
ORSupply.com is a division of DRE Inc. that specializes in distributing surgical supplies and medical devices to hospitals, surgery centers, medical clinics, and research labs in the United States and Canada. ORSupply.com's goal is to provide medical professionals with a one-stop destination for researching and purchasing medical supplies and devices. For more information, visit ORSupply.com.
###