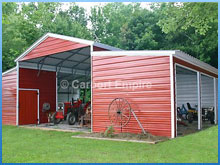 In past years, we have seen a spike in sales during the spring and summer seasons, so we decided to give back to our customers as a show of gratitude for their business
Live Oak, FL (Vocus/PRWEB) April 01, 2011
Carport Empire, an online supplier of carports, steel buildings, RV covers, and more, has lowered prices in time for the spring season. Sales data of prior years has shown a rise in sales during the spring and summer months, so company executives would like to offer extra savings to customers. Carport Empire also supplies financing options to customers to ensure the possibility of immediate purchase opportunities.
Carport Empire operates within a niche market that specializes in storage and vehicle protection. A carport serves as unique alternative to those who do not own a garage or have the space in their garage to protect their car from outside conditions. "A full-size garage is a benefit that is not provided to all homeowners," states a company representative. "We supply customers with single, double, and triple-sized carports, so a customer can protect all of their family's vehicles. In addition to protection, a carport can serve as a shaded recreational or picnic area." The company's array of metal buildings gives home owners and store owners an opportunity to address storage needs. "Our metal buildings come in a variety of sizes," states a representative, "Steel buildings are economical and more convenient than commercial storage options and large enough to use as a workshop or small enough to discreetly store tools and other items on your home or commercial property."
Carport Empire has lowered its prices on its entire inventory of carports and storage buildings in time for the spring season. "In past years, we have seen a spike in sales during the spring and summer seasons, so we decided to give back to our customers as a show of gratitude for their business," states a company executive. "Carports are already an economic alternative to adding to your garage, so we hope more customers realize the easy choice for vehicle protection is our carports."
The carport and steel buildings supplier also provides financing opportunities to qualified customers. Shoppers can access a form on the Carport Empire website or call customer service to apply for financing. "We want our customers to enjoy the immediate satisfaction of owning our products," mentions a representative. "Financing is available all the time, but we hope it is especially useful in the upcoming season in complementing our lowered prices."
Our goal at Carport Empire is to offer you the best price, per-square-foot, on installed carports or steel buildings. We are currently one of the largest distributors of metal carports, enclosed garages, and steel buildings in the United States. Look for our affordable packages on single carports, double carports, triple carports, RV carports, garage carports and other utility carports. Carport Empire's trained staff is ready to answer all your questions and to assist you with a custom design for your vehicle carport, steel building, detached garage, utility carport, or add-on carports for any steel building, garage, storage building or pole barn.
###