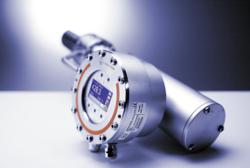 Ashland, Virginia (Vocus/PRWEB) April 05, 2011
Anton Paar is pleased to announce the release of the L-Vis 510 inline process viscometer. The L-Vis 510 uses a new measurement technology based on the measurement of dynamic fluid pressure. The new technology is accurately, reliable, and extremely robust – making it ideal for a wide variety of process applications.
The L-Vis 510 provides an accurate measurement of viscosity and temperature over a wide range of viscosity - up to 50,000 mPa.s. The system can easily be installed directly into a process pipe or tank to provide maximum flexibility. The accurate measurements are not influenced by variations in flow or pressure.
Just a few of the possible applications include: suspensions, lubricants, starch adhesives, and food applications.
You can view a short video introduction of the new L-Vis 510 here.
For more information on the new L-Vis 510, please contact us at 1-800-722-7556, or visit our website.
# # #