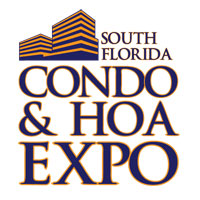 "It's the ONLY event to bring everything property managers and HOA members need under one convenient roof for a single, information-packed day."
Miami, FL (PRWEB) April 01, 2011
On Thursday, April 7th, the Miami Beach Convention Center will host the 2011 South Florida Condo & HOA Expo. The one-day-only event is a non-stop, nine-hour information bonanza with vendor exhibits, demonstrations, and other activities related to sharing knowledge on effective HOA and condo management.
"The Expo provides an unparalleled opportunity for property managers to fact find, solicit bids, and get advice from hundreds of regional and national experts from every phase of the condo industry," says Chris Bond, show manager and spokesperson for L&L Management, producers of the 2011 South Florida Condo & HOA Expo. "It's the only event to bring everything property managers and HOA members need under one convenient roof for a single, information-packed day."
Total Access and Instant Answers
Contacting vendors to request bids or information on new technologies and software that enhance building management can be a time-consuming process. "It's not uncommon to spend days, even weeks, going back and forth with missed phone calls or email messages," observes Bond. "Meanwhile, repairs and renovations are stalled and board members grow frustrated by delays, often leading to charges of mis-management."
At the Expo, building mangers can talk directly with experts and questions are answered instantly, face-to-face. "The process is efficient and streamlined, allowing managers to develop a year's worth of contacts in just one day so they have solutions ready to go for the
problems that will inevitably arise," says Bond.
Seminars
In addition to the exhibits and exhibitors, Expo attendees have access to free seminars held throughout the day. Highlights for property managers include Roofing 101 and Saving Money without Spending Money. Roofing 101, presented by Gregg Wallick, President and CEO, Best Roofing explores the different roofing systems, advantages, materials, demographic concerns of roofs, and common problems associated with roof failures and how to identify them.
Saving Money without Spending Money, presented by Michael Lefkowitz, of ECS Business Services, will focus on strategies for cost containment specifically geared to condominiums and apartments, as well as various methods that can be used to reduce utility, telecom, and other fixed costs. Accounts Receivable and Collections Best Practices will be presented by Association Financial Services. This seminar looks at accounts receivable and their conversion into cash. In addition to presenting best practices for property management firms and self-managed associations, AFS will provide real life examples of cutting edge strategies and results from the front lines of fighting community delinquencies.
The rest of the seminar roster and sponsors includes: Property & Casualty Insurance For Condos & HOAs, presented by Patrick Mulligan, E/G of Florida, Inc.; Diversity in the Workplace(a CEU course), presented by Michael G. Zawaki, Presentation Dynamics, Inc.; and Legal Update – The Bottom Line on the 2010 Legislative Changes and a Preview of 2011 Legislation (CEU course), presented by Katzman Garfinkel & Berger. A state-approved Board Member Certification Course -- Fulfill Your Mandatory Legal Requirement (CEU course) presented by Roberto Blanch, of Siegfried, Rivera, Lerner, De La Torre, & Sobel, P.A. will be offered before the Expo doors open, starting at 9:00 a.m.
Making South Florida a Better Place to Live
"The Expo is free and open to board members and industry professionals as well as property managers," Bond reports. "We hope that it will be an incubator for the growth of professional networks and foster a robust exchange of information that will serve to elevate condo management and condo life throughout South Florida."
The 2011 South Florida HOA & Condo Expo will be held on Thursday, April 7th from 10:30 a.m. to 7:30 p.m. at the Miami Beach Convention Center. For additional details, advance registration for the expo and individual seminars, and automatic entry in to the Expo door prize competition, please visit http://www.condohoaexpo.com/
About the 2011 South Florida Condo and HOA Expo
The 2011 South Florida Condo & HOA Expo is scheduled for Thursday, April 7th at the Miami Beach Convention Center. The comprehensive information and networking event gives association presidents, board members, and property managers premier access to knowledgeable local professionals. The Expo features hundreds of exhibits focusing on legal and financial services, remodeling and construction, and energy saving solutions. Free seminars, including a state-approved board member certification course, will be offered throughout the day. The Expo is produced by L&L Exhibition Management, America's largest home show producer under the same management since 1994 and creator of over 200 home expos nationwide. For additional details, and free advance registration for the Expo and individual seminars, please visit http://www.condohoaexpo.com.
# # #