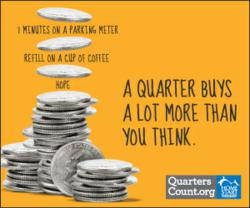 "Collectively, a simple quarter from every person in San Diego can generate one million dollars – a million dollars that will fund programs that can prevent child abuse."
San Diego, CA (PRWEB) April 02, 2011
This April, Home Start, a community-based organization that reaches out to at-risk children and families to help prevent child abuse and neglect, will launch its first annual "Quarters Count" fund raising campaign. The campaign is based on the idea that if every person in San Diego County donated just one quarter, Home Start would raise 1 million dollars to fund services and programs needed to help prevent child abuse. This month-long campaign, which will run during April's National Child Abuse prevention month, will educate the community about the power of small personal donations – in this case, a mere 25 cents - while offering various ways of donating a quarter, or more, to help fund these vital services.
"Collectively, a simple quarter from every person in San Diego can generate one million dollars – a million dollars that will fund programs that can prevent child abuse," says Laura Mustari, CEO Home Start. "Last year, we served over 38,000 San Diegans. However, there were over 70,000 reported cases of child abuse. That means we need the resources to reach more families to break the cycle of abuse and help children around the county."
Home Start's main mission is to help families identify and use their strengths to build a better future for themselves. Home Start prides itself on being a committed, community-based collaborative effort reaching out to children and families at risk and preventing child abuse and neglect. With its dedicated staff of over 100, Home Start is able to offer family support services, a maternity shelter for new mothers in need, and community outreach programs all aimed at educating and assisting parents and breaking the cycle of abuse before it happens.
The Quarters Count campaign is a vital fundraising effort that allows for the organization to continue helping its families year-round. Donations can be made via PayPal on the website http://www.quarterscount.org or donations of $5 can be made by texting the word "Quarters" to 20222. You can also help to raise awareness by adding a Twibbon to your Twitter or Facebook avatar for the month of April or downloading a Quarters Count Twitter background image from the http://www.quarterscount.org homepage.
For more information please visit http://www.quarterscount.org
ABOUT HOME START
Founded in 1972, Home Start, Inc. is a 501 (C) (3) non-profit agency that provides services to children from low-income families who require immediate, comprehensive solutions to ensure their safety and healthy development. Our mission is dedicated to child abuse prevention and family strengthening services. Today, Home Start reaches at-risk children right where it counts -- in the home, and then extends the helping hand to schools and the community. For more information about Home Start and our programs please visit us online at http://www.home-start.org or call (619) 692-0727
###