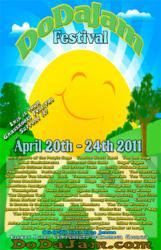 There's party going on ... many Spirits Strong!
Dahlonega, GA (PRWEB) April 01, 2011
Do Da Jam "Earth Day Weekend" Festival
The Only True 4/20 Fest of 2011
On the Banks of the Etowah River a new festival will emerge with the Spirit of the Earth and Kindness as the focal point. A weekend of kindred spirits, relaxation and to rejuvenate the Soul, which is the passion of which Do Da Jam is created about!
From 1999 – 2001, a small festival in North Georgia outside Ellijay hosted over 75 bands with 7 festivals with performances from Robby Krieger, Yonder Mountain String Band, Steep Canyon Rangers, The Big Wu, John Cowan Band, The Recipe and multiple performances by STS9, Col. Bruce & the Codetalkers, Iratowns and many others. Plus the dozens of other Georgia & regional artists that performed such as Caroline Aiken, Barry Richman, Blueground Undergrass and who can forgot the awesome band Ghost Train that emerged as the highlight of the 4/20 Festival 2001. This was the Little Turniptown overnight Music Jam and now from the creator of that Festival is now Do Da Jam Festival.
Over 50 Bands, on 4 stages for 5 days of great music, arts, recreation and community as the Do Da family will be created and this Inaugural Festival will launch a new legacy for North Georgia and the Southeast.
Do Da Jam "Earth Day Weekend' Festival will be hosted at the Etowah River Campground, a sweet campground outside Dahlonega, Georgia. We are offering riverfront campsites, hot showers, powered campsites, RV spots with hookups, complete vendors area with a Shakedown Street, film festival tent, river tubing, disc golf, artists tent and more all within an intimate setting.
Do Da Jam will provide quality festivals in some sweet spots with an awesome line-up of bands, artists, vendors and recreation while maintaining intimate nature of the event.
Do Da Jam Earth Day Weekend Festival 2011
Line-Up Includes
New Riders of the Purple Sage
Different Size Gods
Yonrico Scott Band
Sugar Kayne
Jamie Mclean Band
Lee Boys
The Mantras
Sol Driven Train
Lefty Williams Band
Dead Confederates
Six Shoot Rvival
CinderCat
Tennessee Jed
DJ 557
The Woodgrains
Suex Effect
Blue Haired Ladies
IRE
The Train Wrecks
Freezerburn
Aviva and the Flying Penquins
Lingo
The Johnson Party
American Adodyne
James Dean & The Shriners
Mama's Love
The Rhythm Yard
Concrete Jumpsuit
The Dirty Lowdown
The Wheelers
Gooseberry Jam
the Fritz
Cheezy T
Saltwater Grass
Back City Woods
Miles from Earth
Honey Henny Lime
Ten Toes Up
Psychedelphia
Schroeder Von Lischka
Green Sunshine
The Vegabonds
Thumbprint
Laura Simon Experience
Rooftop Society
Roshambeaux
D Brown & the New Ones
Evan Barber & the Dead Gamblers
The Jangled Harp
Buddy-Sam Walker
Brother T-Ray
###