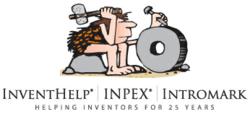 Pittsburgh, PA (PRWEB) April 01, 2011
InventHelp®, America's largest inventor service company, announces that one of its clients, an inventor from Mississippi, has designed a modified fishing rod holder that would feature automatic operation. This invention is patented.
"Fishomatic 2005" fishing accessory is designed to increase an angler's chances of success as it could ensure that the hook is set in the fish's mouth. The construction of the device allows for a user to leave the unit unattended to concentrate on other tasks. Ideal for use on land or in a boat, the Fishomatic 2005 would feature an easy-to-use, portable design.
Fishomatic 2005 would consist of a lightweight steel or aluminum device that would include a base assembly measuring 35 inches high. The base would include a supportive rod that would terminate in a staked end for easy insertion in the ground. A cross member producible from square tubing would be situated at the top of the rod. A vertical section of square tubing would extend from the rod. The device would include a spring-loaded rod holder that would measure approximately 12 inches high. When a fish bites at the line, the device would snap back to snare the fish and set the hook in its mouth. A user would then reel in the fish in the usual manner. The inventor suggests optional variations that could include adapters for use on a boat.
InventHelp® is attempting to submit the invention to companies for review. If substantial interest is expressed, the company will attempt to negotiate for a sale or royalties for the inventor. For more information, telephone Dept. 05-BHA-869 at (800) 851-6030.
# # #