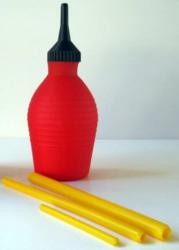 Bugs can't hide from the Dustwand
North Lauderdale, FL (Vocus/PRWEB) April 05, 2011
Wherever people live and travel, pest insects seem to find a way to reach and bother them, especially in the warmer months. They may show up anywhere at any time, causing frustration and embarassment. Many people are annoyed by just the sight of pest insects. Others suffer painful stings or bites. Pets may be attacked by fleas and ticks, and garden plants may be damaged or killed by plant pests. Vehicles of all kinds may become infested by ants or cockroaches.
Many times the bugs are hidden in places (such as electrical outlets) where liquid sprays can't reach. Most Dust insecticidal formulations are sold in simple containers or in container-applicators. Most of these container-applicators will dispense their contents in just one direction, making them unsuitable for many pest control operations. The Dustwand, designed by a pest control professional, reaches through all kinds of small openings to cover the surfaces of pest travel paths and harborages. Even electrical outlets may be treated by the Dustwand without the need for removal of their covers.
The Dustwand's patented* delivery system allows it to discharge powders upward, downward, or horizontally in any and all of the environments where pests may be concealed. The Dustwand's delivery system also provides a smoke-like discharge resulting in even coverage of target surfaces, vital to pest control operations. No other one hand duster can match the Dustwand's directional diversity or its particle separation. The Dustwand effectively dispenses the safest of insecticides (including boric acid and diatomaceous earth) as well as all of the other home and garden insecticidal powders. With the Dustwand anyone can eliminate most household pests using ordinary baking soda. And with a simple alteration of its delivery system (described by the included instructions) small granules may be dispensed for perimeter or spot treatments outdoors. The Dustwand does much more.
About the Dustwand company:Beginning pest control operations in Florida in 1981, the need for an omni-directional powder sprayer providing excellent particle separation was realized, developed, and patented. The Dustwand is in use nation wide and Canada and will soon be world wide Please see it in action at http://www.dustwand.net.
*US patent # RE37760
# # #