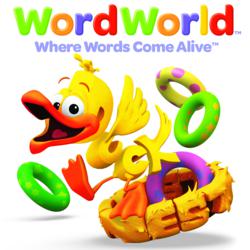 The mobility and magic of the WordWorld eBook apps allow children to engage in interactive, educational play regardless of time and location.
New York, NY (PRWEB) April 01, 2011
Don Moody, creator of the three-time Emmy™ Award-winning television series WordWorld, debuts "Snug as a Bug", the Company's fifth fun eBook for preschoolers. It is the latest in a series of games and adventures starring the loveable cast of WordFriends™ and the tactile WordBuilding concept in which children build words that come to life. WordWorld's iPhone and iPad apps for children extend the learning lessons introduced in the television series and allow children to interactively read anywhere they live, learn and play.
In "Snug as a Bug," WordFriend Bug can't sleep even though it's nighttime. And when Bug can't sleep, Frog can't sleep, either. Frog must help Bug find just the right thing to sleep in that will make him feel snug. Until they can figure out the end of the rhyme, "snug as a bug in a . . ." no one will get much rest! This fun eBook teaches rhyming and figurative language.
With all WordWorld educational eBooks, children may read on their own, be read to by a caregiver, or have stories read aloud by the eBook narrator. By clicking select words in each eBook, children build words and watch letters "morph" into WordFriends™. A Parent/Teacher Guide accompanies each eBook, providing strategies to maximize educational effectiveness.
"The mobility and magic of the WordWorld eBook apps allow children to engage in interactive, educational play regardless of time and location. The payoff for children when they interactively "Build a Word" and watch it "morph" into a WordFriend is empowering" said Moody.
"Children and [the WordWorld] eBooks are a match made in educational heaven!" says Linda Labbo, Professor of Language and Literacy Education at the University of Georgia. "Words come to life on screens in unique ways that invite children to interact with stories, characters, and language. The interactivity scaffolds children's attention and provides age-appropriate prompts that ensure an entertaining and educational experience."
WordWorld's iPhone and iPad apps for kids support the early literacy curriculum delivered through the WordWorld television series. Each educational app promotes story comprehension, age-appropriate vocabulary, rhyming, print awareness, phonological sensitivity, and letter knowledge. WordWorld has been demonstrated by a US Department of Education-funded study to improve early literacy skills.
About WordWorld:
Word World LLC, created by Don Moody, is an award-winning multiplatform media franchise with a focus on helping two- to six-year olds develop crucial literacy skills. Through a first-of-its-kind, patent-pending learning tool, all WordWorld products embed words into images to enhance word recognition. WordWorld is partially funded by the US Department of Education and is part of the Ready to Learn literacy initiative focused on helping children ages two to eight improve their reading skills.
###