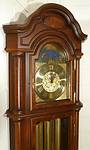 These clocks are handcrafted....which add beauty to any home or office.
Poolville, TX (PRWEB) April 29, 2011
Grandfather clocks have been around since the 13th century. They have added a unique source of time keeping as well as giving the owner a beautiful piece of furniture. The launching of My Grandfather Clocks will offer the discriminating shopper a new and easy source to purchase these special handcrafted German time pieces. The website also offers some affordable ready-made American clocks. The combination of the various models of the German and American grandfather clocks allows shoppers from all walks of life the opportunity to own a special time piece.
All German grandfather clocks are handmade from woods such as oak, cherry, nut tree, maple and others. They are all made-to-order and shipped directly to their home or office. These clocks contain genuine black forest clockworks.
It is also important to note that the new website also offers two cuckoo clocks. These clocks are also handcrafted from solid wood and finished with a beautiful stain.
When Steve and Karen Smith started Major Internet Marketing, LLC it was their intention to launch several websites that offer just two or three products per website. The success of this new website is dependent on the fact that the site offers only grandfather clocks and cuckoo clocks. Mr. Smith states that "by listing only a few items per website the confusion of shopping for a particular item is eliminated. Various studies show that the majority of shoppers are looking for a specific item. Mr. Smith goes on to say "by listing 'grandfather clocks' in search engines such as Google or Bing, our website should be listed on the first page of these search engines since we carry just the item they are searching for".
Another important reason for offering only two products on their websites is customer service. Major Internet Marketing, LLC is dedicated to superior customer service. Handling only two items means fewer sales per website but it will allow for all necessary time that needs to be devoted to their customers. This devotion superior customer service comes from their 35 years of business experience in sales and accounting.
About The Company:
Major Internet Marketing, LLC was co-founded by Steve and Karen Smith of Poolville, Texas on January 1, 2010. The various websites that the company has in the planning stages will offer such products as dog harnesses and collars, angels and crosses, tea service and teas and other diverse items. Their first website represents the German grandfather clocks made by the Lepper family in Deutschland, Germany. The Lepper name stands for: Tradition, Creativity, Exclusivity and High Quality. The Hazel clocks are also represented. They ship from a warehouse in Kentucky. To celebrate the launching of this website, all of the German clocks are ON SALE and there is FREE shipping for the American clocks and the cuckoo clocks.
For more information about Major Internet Marketing, LLC and their first website, My Grandfather Clocks, go to http://www.mygrandfatherclocks.com, send an email to stevesmith@majorinternetmarketing.com or call us at 940-798-4445.
###