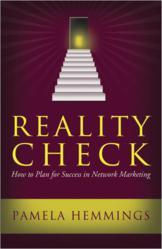 Albany, NY (Vocus/PRWEB) April 01, 2011
With the downturn in the economy, many people are ripe for the promise of easy riches and big rewards with little effort—maybe by starting a home-based network marketing business. For people dreaming of instant wealth, Reality Check: How to Plan for Success in Network Marketing is NOT the book to read.
Fantasies of setting up a cyber-shop and sitting back while the checks roll in are just that—fantasies. A business does not run itself—an entrepreneur needs to develop and run it efficiently. Most won't even turn a profit in your first year—maybe longer. So, why would anyone get into network marketing? Reality Check—You CAN be successful.
In Reality Check, author Pamela Hemmings utilizes an extensive business background to show you how to plan, have patience, and persevere in network marketing. With the "three Ps," along with the other information found in Reality Check, readers can turn their dreams into reality.
For more information, contact Publicist Jennifer Herron or visit: http://www.pamelahemmings.com.
About the author: Pamela Hemmings' successful corporate career on Wall Street started as a secretary for an economic research firm. She moved up to become a writer, editor, research associate, and finally a supervisory analyst for both equity and fixed income research firms. Hemmings retired in 2004 as a Director for Credit Suisse First Boston and now lives in Saratoga Springs, New York.
###