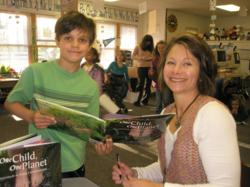 "The greatest honor of all has been the numerous invitations that I have received to present One Child, One Planet in schools and programs across the country."
Lake Orion, MI (PRWEB) April 02, 2011
With April upon us, author Bridget McGovern Llewellyn is busy gearing up for her second annual Earth Day Book Tour. The book, One Child, One Planet: Inspiration for the Young Conservationist (Oct. 2009) celebrates three new recognitions since it's premier book tour in the spring of 2010.
Acclaims for One Child, One Planet include a silver Benjamin Franklin award for 2010 Best Children's Picture Book, a Mom's Choice Award and its selection as a National Best Book Honoree. "The greatest honor of all has been the numerous invitations that I have received to present One Child, One Planet in schools and programs across the country. It is truly a gift to share this book with students, and to receive such praises from educators," says Llewellyn.
"The World's Been Waiting For You!" is the program Llewellyn delivers to school-aged children.
Her programs include a big-screen reading of One Child, One Planet, interactive discussion about simple Earth-friendly actions that can make a global impact, and insight into the book-publishing process – from inspiration to print. Bridget Llewellyn will be visiting schools in Southeast Michigan and Western New York throughout April.
One Child, One Planet, pays loving tribute to Mother Earth, her gifts and her greatest concerns. Originally intended as a bedtime story for young children, One Child, One Planet is quickly finding its way into classrooms. Elementary teachers are finding it a valuable resource, as it's positive message offers gentle lessons on greenhouse gases, climate change, resources and conservation, providing practical ways for children to protect Earth's fragile environment.
What differentiates this book from others on the topic is its sheer optimism and captivating photography. Llewellyn teamed-up with award-winning wildlife photographers, Carl R. Sams II and Jean Stoick, co-creators of the New York Times best-selling In the Woods children's series, including Stranger in the Woods. Through photography, One Child, One Planet reveals big and small places of beauty on the planet, fostering an appreciation that will, in turn, encourage every person to do his or her part to maintain a healthy world.
Readers can preview One Child, One Planet at http://onechildoneplanet.com.
About the author: Bridget Llewellyn resides in Lake Orion, Michigan. One Child, One Planet was created when she searched for an environmental book to suit her family's needs, and found a dismal selection. She set out to create a resource for young children that would be nothing shy of inspirational. Llewellyn was born in Manhattan, raised in Western New York, and graduated from Syracuse University. She enjoys spending time in the great outdoors with her husband, Pat, and their four daughters. This is her first book, self-published.
About the photographers: Carl Sams and Jean Stoick are a husband-wife team residing in Milford, Michigan. They have been photographing the same family of deer near their home for more than 25 years. Sharing photos and stories with children is their way of fostering love and appreciation of the outdoors, with hope that the next generation will help to preserve all of nature's treasures. Carl and Jean are the co-creators of the best-selling children's In The Woods series of books and videos. Carl signed-on to this project upon his first meeting with Bridget, concurring with her that this is a book that needs to get out there, quick! (http://www.carlsams.com)
OCOP Specs:
48 pages, full-color, hardcover.
Printed in Canada on partially recycled paper with vegetable-based inks.
List price: $19.95
ISBN: 978-0-984-1880-0-0
Available at Barnes & Noble, Amazon, Bass Pro, Michigan State Parks, U.S. National Parks,
the Washington National Zoo, Whole Foods Markets and many lovely Mom & Pop gift shops.
Autographed, personalized copies available: http://onechildoneplanet.com
EDITORS: For review sample and interview requests, contact Bridget Llewellyn at 248-860-9221 or bridget(at)OneChildOnePlanet(dot)com.
Images of cover and author are online: http://onechildoneplanet.com.
###