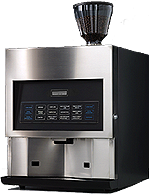 Caribbean Coffee has "bean" able to roast the perfect blend for All Pro Beverage, while keeping the prices in line.
Los Angeles, CA (Vocus/PRWEB) April 01, 2011
Coffee specialist Caribbean Coffee has won the order as exclusive supplier for the prestigious beverage provider, All Pro Beverage, and has begun supplying fresh roasted coffee to a whole new market of office coffee services in Los Angeles and Orange County.
Doing business since 1986, Caribbean Coffee Company, Inc. will be supplying premium grade freshly roasted specialty coffees representing the upper 5% of the green coffee production.
Caribbean Coffee Company roasts every bean on their premises using a carefully monitored process. Only the finest raw beans are selected for "power roasting" using their diagonal draft, gas fired roaster, designed exclusively for them in Spain. Caribbean Coffee roasting professionals have years of experience and use proprietary methods to maximize the flavor of each premium bean. An emphasis on the darker southern European roasting style brings out the full potential of each batch.
With the price of coffee prices going through the roof, Caribbean Coffee has "bean" able to roast the perfect blend for All Pro Beverage, while keeping the prices in line. What this means is when people drink coffee from All Pro Beverage's super automatic espresso machines, they are indulging in the ultimate coffee experience!
All Pro Beverage is the foremost distributor in North America for the truly eco-friendly fully automatic espresso machines, branded as Espresso Etc! These unique push-button single cup coffee machines grind the beans fresh, and dispense one perfect serving at a time in many delicious flavors that include French Vanilla, Cappuccino, Hot Chocolate and Chai Latte. Then, at another push of a button, the coffee machine cleans itself - so simple, anyone can become an expert barista within minutes!
As a leading supplier of office coffee services, All Pro Beverage is recognized for its bag-in-box packaging, push button espresso machines, healthy juice dispensers, bottle-less water coolers, water purifiers, and socially responsible business practices.
All Pro Beverage's operations are managed through five distribution units: All Pro Beverage distributes bag-in-box bar supplies and equipment. Espresso Etc Specialty Coffee services the Office Coffee industry by distributing super automatic espresso machines, fresh roasted coffee and gourmet beverage products. Fructomat USA Healthy Beverages produces custom formulated juice, water dispensers, and vending machines. Watair Water Coolers distributes the most ecologically sound air-to-water coolers for home and businesses. Linis high-tech office water coolers purification systems are designed especially to meet every company's water purification needs for all office coffee services. For more information, visit allprobeverage.com, espresso-etc.com, fructomatusa.com, airwatercoolers.com, and officebottledwatercoolers.com.
Find us on Facebook.
# # #