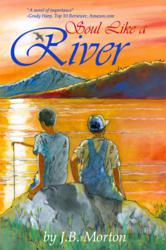 Charlotte, NC (Vocus/PRWEB) April 02, 2011
Soul Like a River, a new book by J.B. Morton, has been released by RoseDog Books.
"It's a good read."-Wendy Williams, Syndicated television and radio host.
"A treat for lovers of fiction."- RAWSISTAZ REVIEWERS
"Make note of the name and make sure to digest this important work. His is a new, refreshing literary voice."- Curtis Bunn, Founder, National Book Club Conference
The time is 1959, and the winds of change rip through the bucolic river town of Jordan, South Carolina. On the cusp of the civil rights movement in America, ethnic tensions reach a boiling point within a cauldron of clashing ideologies and faiths. A devout family—one intimately connected to the land—awaits the homecoming of the eldest son from up North. He has been away at the seminary for some six years. In a highly anticipated event, he arrives home with none other than the Reverend Martin Luther King, Jr., himself.
In the tumultuous weekend that follows, the mighty King electrifies Jordan, the gospel of freedom and, to some, integration upon his lips. But amidst the larger social conflict, another contrasting mindset intervenes, that embodied by the fiery young protagonist, Jimmy. A product of the mean streets of an urban ghetto, the precocious intruder is steeped in the militant ethos of Malcolm X. His worldview amounts to a bombshell within this isolated, genteel community, a potent source of moral confusion that will wreak havoc, threatening to rip little Jordan asunder. Once provoked, he vows to commit murder. Further, it is only a matter of time before he drops the cultural dynamite seething inside of him, coarsely asserting to his young country companions that the framed, blue-eyed, golden-haired "savior" looming with halo above Big Mama's supper table is nothing of the sort, but rather just another "white man's trick."
Soul Like a River is a 284-page paperback with a retail price of $28.00. The ISBN is 978-1-4349-8165-3. Rose Dog Books of Pittsburgh, Pennsylvania published it. For more information or to request a review copy, please visit our virtual pressroom at http://www.rosedog.com/pressroom or our online bookstore at http://www.rosedogbookstore.com
###