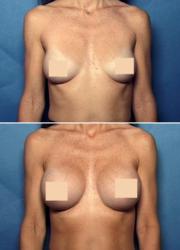 Atlanta, GA (Vocus/PRWEB) April 05, 2011
Men and women across the country and around the world are firming up their New Year's resolutions in an attempt to finally get their bodies bikini-ready for the beach. Perhaps your time in the gym has slowly dropped off or those chips and ice cream somehow made another appearance in your kitchen. Now that the holidays are firmly behind us, it's time to look ahead to the next six months. Spring break has come and gone for some, and we are expecting plenty of sun, sand and surf time left in this summer. Now is the perfect time to consider elective cosmetic surgery procedures such as breast augmentation. Atlanta plastic surgeon, Dr. Bauer recommends Spring as one of the most ideal times of year for procedures.
"Many patients don't realize that this is the best time of year to have their surgery done," Dr. Bauer explains.
"Your post-operative recovery period will be well over and the results readily obvious by the time June arrives, a perfect time to show off your tummy tuck or breast augmentation at the neighborhood pool, lake or beach."
Pain, bruising, and swelling should all subside from 1 to 2 weeks post breast augmentation. Atlanta surgeon, Bauer, suggests recovery for tummy tuck can be several weeks for recovery and ability to resume day to day activities.
Atlanta is also home to renowned plastic surgeons Dr. Fardo and Dr. Alderman. Each has extensive experience in a variety of elective cosmetic procedures that are designed to help men and women look and feel their best.
"We can routinely modify procedures such as a mommy makeovers whereby we can safely combine multiple procedures with one another in order to meet your needs," Dr. Fardo says. "Obviously, no two patients are alike and not every person needs or even wants the same procedures."
Atlanta plastic surgeon, Dr. Alderman elaborates, "We can help you pinpoint areas that you would like to improve and design a specific surgery to fulfill those expectations. We will also give you detailed pre- and post-operative instructions in order to get the best results with minimum pain and recovery time."
Take the time to consider elective cosmetic surgery as swimsuit season quickly approaches. Stop worrying about those forgotten New Year's Resolutions and instead resolve to look and feel your best in a new bikini-ready beach body. In Atlanta, breast augmentation and tummy tuck is more affordable and accessible than ever. For more information visit http://www.swancenteratlanta.com or Swan Center for Plastic Surgery, 4165 Old Milton Pkwy # 200, Alpharetta, GA 30005 (770) 667-0904.
###