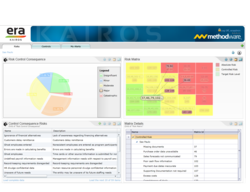 London (PRWEB) April 01, 2011
GRC has evolved - risk managers, compliance officers and internal auditors need to be able to show benefit to the organisation beyond filling out forms or ticking boxes, while still addressing fundamental challenges like IT security, fraud and compliance. GRC software has not kept pace with this evolution – until today.
Methodware is pleased to announce the release of ERA Kairos, the revolutionary new GRC software platform. The latest version of Methodware's proven risk, compliance and audit software gives users the power of personalisation. Now all your GRC functions can be personalised, so data and workflows appear exactly as you require, and change with the needs of the business.
"We saw an opportunity to create a solution that offered clients the ability to manage GRC according to their specific requirements and work styles," said Paul Stokes, Managing Director of Methodware. "Through the ease of use and flexibility of ERA Kairos, our clients can spend less time talking about the process and focus more on why things happen and what's coming next. This efficiency and improved alignment with the rest of the business gives our clients a competitive advantage."
ERA Kairos is built on the concept of "methods." Users interact with GRC data and processes in a variety of ways – executives want the big picture, business units want an unobtrusive process, GRC professionals want everything. With methods, users can have their own personal views of GRC based on the organisation's needs.
Methods can be as simple as a single data entry screen or multiple screens and paths connected by your business logic. Every field, every screen, every step of the process can be designed by the client through a powerful drag-and-drop utility. This creates an intuitive experience, so easy to use that your end users will understand with little or no training.
ERA Kairos is named for the ancient Greek term for opportunity. For too long, GRC software has focused on the downside of risk and compliance. With ERA Kairos, Methodware provides clients efficiency, ease of use and better alignment between GRC and the rest of the business. This personalized experience lets your business find great opportunities to pursue.
# # #