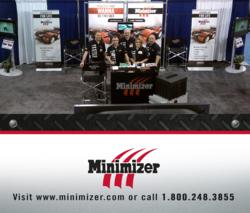 Blooming Prairie, Minnesota (Vocus/PRWEB) April 01, 2011
Minimizer consistently strives to pursue new markets. The ideal market has trucks going from off-road to on-road because these trucks need Minimizer fenders. The leading construction tradeshow, CONEXPO-CON/AGG, was a perfect fit for exhibiting Minimizer products.
CONEXPO-CON/AGG was held March 22-26 in Las Vegas and is the international gathering place for the construction industries. The show is held every three years; the exposition showcased the latest equipment, products, services and technologies.
Minimizer has many tradeshow options from which to choose. Construction being a target industry for Minimizer's products, CONEXPO-CON/AGG was the right venue for Minimizer to exhibit the Company's innovative semi truck fenders, bracket systems and mud flaps.
The event featured over 2,000 exhibitors, a comprehensive education program, product specific concentration areas, and over 140,000 attendees over 5 days.
Minimizer wanted to have an impact at this key show. The Company transformed a large 20 x 30 display area into a mini-showroom. The presentation attracted hundreds of industry-specific leads that were hungry for additional information. Many visitors were ready to purchase and were put in contact with their local distributors.
"We were really impressed with the depth of leads and visitors we met," said Steve Hansen, National Accounts Manager, "Leads were generated from all over the world including the U.S, Canada, Mexico, Puerto Rico, Australia, China, Egypt, New Zealand, Slovenia, Trinidad, Haiti, South Africa, Chile, Columbia, Malaysia and Bermuda. We didn't expect this diversity in the traffic, it was really exciting!"
Beyond showing Minimizer's world class product line, the Company leveraged the experience to train newer employees and explore new product opportunities.
Dan Callen, Minimizer's new Southwest Regional Sales Manager, was on hand to work the booth, connect with distributors and prospective customers and further bolster the Minimizer brand in the construction industry.
"This was a great opportunity for me to learn more about the industries we serve and talk directly with product users, I learned a lot about the markets we work for," Dan said.
Minimizer's commitment to new product opportunities shown through as product engineers Phil LaViolette and Martin Larsen were included in the Minimizer delegation so they could interact with customers, peruse the tradeshow floor and identify new product opportunities.
"The CONEXPO-CON/AGG tradeshow experience was a resounding success for our team," said Steve Hansen. "The communication with industry leaders and product users was an invaluable knowledge-gain for Minimizer."
Minimizer fenders will enhance the performance of all makes and models of over the road trucks, construction vehicles, or agriculture equipment.
Enhance and protect your vehicle with Minimizer products. The toughness is unmatched as seen on this Minimizer promotional video entitled "Tested & Tortured".
To order Minimizer fenders find a distributor by clicking here. Minimizer fenders and related products are available through exclusive Minimizer distributors.
For more information or to contact a dealer, call us at (800) 248-3855 or visit our website or email us at info(at)minimizer(dot)com.
About Minimizer
Headquartered in Blooming Prairie, Minnesota, USA, Minimizer manufactures poly truck fenders, poly toolboxes, customized mud flaps, and bracket kits. Family owned and operated for nearly three generations, Minimizer parent company Spray Control Systems, Inc., was founded in 1983. Minimizer aims to provide products tough enough to please tough people in a tough industry. For more information call (800) 248-3855 or visit http://www.minimizer.com.
###